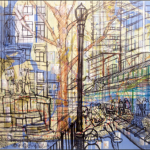 Family art returns to the New York Transit Museum on Saturday, July 14, this time with artist Enrico Miguel Thomas. Thomas draws scenes from the subway, using subway maps as background. On Saturday, Thomas will share the story of his two great passions – art and New York City's subways – and then lead a drawing program for participants.
The workshop, which is free with museum admission, is for ages 8 and up. Reservations recommended – call (718) 694-1792.
The New York Transit Museum is located at the corner of Boerum Place and Schermerhorn Street in Brooklyn Heights.