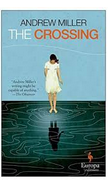 by Alexandra Bowie
Sauve qui peut. Those are the words tattooed on Maud's forearm, her left. Maud, the central character of Andrew Miller's lovely novel "The Crossing" is very young, very pretty, and very serious about everything she does: her degree in biology, her participation in the university sailing team, her job as a clinical research associate at a drug company overseeing drug trials. She may, possibly, be on the Autism spectrum – and her school teacher parents, too. Or perhaps they're just people whose work is more important than family. Maud meets Tim Rathbone at the university sailing club – he's an indifferent student and sometime musician from a wealthy, sociable family. The Rathbones drink a great deal of gin.
Tim and Maud pair up; Maud works, and Tim thinks about the concerto he is writing. They continue sailing, and one day together they see a boat, the Lodestar. Miller writes,
They start to gather the money they need, to pool their resources. Much of what Maud earns she saves, not knowing what to spend it on, not desiring many things. Tim has savings too, of course, money that hangs slack in various accounts . . . For Lodestar, he decides to visit the money stream a little closer to its source.
By the end of Tim's weekend visit, Mrs. Rathbone has agreed to fund the purchase. Miller writes, "She thinks young people should have a project. When she says 'strive' her cheeks tremble a little. He embraces her. . . He fetches the gin, the blue bottle, the accoutrements." It all works well, for a bit. Tim and Maud sail on weekends, and dream of traveling long distances along coasts, across oceans.
When Tim and Maud have a baby, Maud returns to work quickly, and Tim stays home to care for Zoe. They try, a few times, to bring Zoe out on the Lodestar, but Zoe is frightened and miserable, and they use the boat less as Zoe grows. There's some veiled sexism in the response of Tim's family to their child-rearing arrangement – sexism that becomes open when Zoe is killed in a car accident. Tim is in the car, Maud is at work. But somehow, she's to blame – at least to Tim's family. She should have taken care of Zoe.
There is much that is left unsaid in this remarkable novel. Tim has begun an affair with the mother of one of Zoe's schoolmates. It's unclear who was in the car with Tim – possibly Zoe, though possibly it was the other woman (Tim's car collided with a school bus – and the other children are receiving trauma services.) Maud's response to these losses is stoic – she prefers to return to work quickly, until she's asked to go on leave, as her calm is making her fellow workers uncomfortable.
Alone, Maud flees in the Lodestar, heading west across the Atlantic. For a while all goes, but then Maud experiences a calm, followed an overwhelming storm. The Lodestar reaches land, and it's possible Maud survived, injured, disoriented and dehydrated. It's also possible that she did not. "The Crossing" is about family, about messing about in boats, but it's also about life and death on and off the water. It's thought-provoking, occasionally eerie, and very, very well written. Please provide your theories about the conclusion in the comments.
Have a book you want me to know about? Email me at asbowie@gmail.com. Find me on Twitter @abowie917.