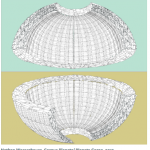 BRIC is opening its new exhibit space in its new building, BRIC House, with an exhibit called Housewarming: Notions of Home from the Center of the Universe. Twelve Brooklyn-based artists explore the idea of home. The exhibit serves to introduce BRIC's new 3000 square foot gallery. More information is available on BRIC's website.
The exhibit runs from October 3-December 15, 2013. There's an opening reception October 9 from 7-9 pm.
Admission is free. The gallery is open Tuesday-Sunday, 10 am-8 pm.
BRIC House is located at 647 Fulton Street at Rockwell Place.