Dog Shaming! It's the extraordinary trend sweeping social media! People post pictures of their dogs bearing placards explaining what strange, embarrassing, or inconvenient deeds these sad and humiliated animals have done, and everyone's happy! You know what I'm talking about: A sweet little dachshund sits behind a handwritten sign that says "I pooped on the AC vent and made the whole bathroom smell like poop." Another furry little bundle of smiles has a note around its' neck saying "I hid meat in the couch." And a particularly grim looking retriever sits behind a poster that says "I've eaten 2 TV remotes in the last week."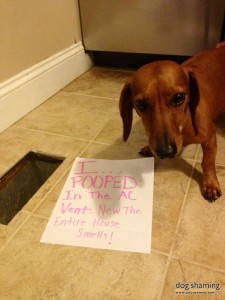 But few people know this trend is well over half a century old, and it was started by a Brooklyn native, Dr. Allen B. DuMont! Dr. Dumont, of course, was the mastermind behind the doomed DuMont Network, which was television's fourth network between 1946 and 1956. In 1951, the network (whose flagship station was Channel 5 in New York) needed a show to fill a fifteen-minute slot between the end of Captain Video and His Video Rangers and the (often erratically timed) beginning of Boxing From Eastern Parkway. Ol' Dr. DuMont himself conceived of I'm A Bad Widdle Doggie, which was hosted by Chaim 'Hy' Silvers (the twin brother of famed funnyman Phil Silvers) and Dagmar, the blonde-bombshell who was the Anna Nicole of her day. The premise of the show was simple: ordinary people came on with their pooches and told (presumably) funny stories about their pets' embarrassing behavior. But in reality, the show was a disaster: under the hot lights, the dogs frequently became aggressive, had accidents, dashed for the exits, and consistently performed in a manner inappropriate for live television. In an attempt to retain order amongst the chaos, Silvers and Dagmar were forced to improvise constantly and sometimes recklessly: one night this resulted in Silvers telling an only-somewhat sanitized version of Mantan Morland's famous "Mashed Potato" joke, and the next day the show was cancelled, after only being on the air for six episodes. Hy Silvers' career never recovered, and he ended his days emceeing kiddies' talent shows at Mount Airy Lodge in the Poconos. But the legacy of Dog Shaming as a national pastime endured, all thanks to Brooklyn's own Dr. Allen DuMont!
Remarkable Remarks! Call me crazy, but I prefer Blimpie to Subway…Why is it so hard to find good ol' fashion Bazooka Bubblegum? It's still the best, my friends…A tip of the Christmas cap to Duane Reade on Court and Montague for staying open until midnight during the holiday season!…Has there even been a sexier woman than Miss Joey Heatherton?…I'm not saying Tofu comes from outer space, but spell it backwards and you got UFO!…When are they gonna develop a post-season award that properly honors the importance of the Middle Reliever?…A morning in the Heights isn't complete without a Banana Nut Muffin from Connecticut Muffin!…Every time someone says "Bachman Turner Overdrive" I say "Yes, please!"…I'm not saying everyone living in North Williamsburg is young, but the hippest place there is the Monkey Bars! AND THAT'S WHY I LOVE LIVING IN BROOKLYN!
(Mr. Sommer's opinions and grasp of reality are entirely his own)
Tim Sommer has been employed to varying degrees of gainfulness as a musician, record producer, DJ, VJ, and music industry executive. He is currently recording an audio book version of his much-acclaimed four-volume biography of the pioneering vaudevillians Weber and Fields; and, with a grant from AACSM (The American Association of Celery Salt Manufacturers) he is seeking to advance awareness of the Bloody Caeser in the United States.