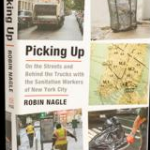 As a long-time resident of New York City I knew two things about New York City's Sanitation Department: its workers call themselves "New York's Strongest," and the department, like the Police and Fire Departments, is run on quasi-military lines. I learned a lot more reading Robin Nagle's fascinating anthropological study of the Sanitation Department "Picking Up."
Nagle reports that New York City employs approximately 10,000 San workers at any one time; approximately 80% of them are uniformed. DSNY has three major responsibilities – picking up the garbage, including bagged trash (11,000 tons a day) and recycling (2,000 tons a day) from residences and street wastebaskets, figuring out how to dispose of it, and clearing snow from the streets. DSNY also sweeps litter from the streets – 6,000 miles of them. So it's not a small portfolio. Nagle points out that because we don't like to think about our trash, we often look through the workers.
But San men, and women, do much more than pick up the trash and haul it away. Planning routes is a complex logistical task, one that varies as weather and population, change. San workers have to hold a Class B commercial driver's license – according to Nagle, those garbage trucks weigh more than 26,000 pounds. They have to understand the mechanical systems of the trucks or brooms they drive, and how to maneuver them in narrow streets. Nagle covers all those tasks, as well as the history and development of the department, in engaging prose.
And that's before she gets to snow removal. When a storm approaches, crew members work many shifts clearing the roads before they get back to picking up the trash and recycling. Here's how Nagle describes one plowing experience:
During a brief, sloppy December storm that sent the Department into battle mode, I was assigned to a team sent to tandem plow a section of the Bronx River Parkway. We climbed an entrance to the northbound side and spread out . . . Slush on the road ahead of us was thick. The first plow sent a rooster tail of it into the path of the second plow; the second plow's tail was a little bigger. The third plow created a curl taller than the truck, which I [in the fourth truck] turned into a still bigger, more extravagant wave before the last plow sent it vaulting over the right lane guardrail. We were a mighty force . . .
Nagle also touches on what happens when a storm gets ahead of New York City, as happened in 1888, 1969 and, as many readers may remember, 2010. Nagle's chapters dissecting the Department's response to those storms are particularly careful and intelligible.
Nagle took the civil service exam to become a San worker; she trained to become one, and she spent time on the streets and in the garages as a worker. "Picking Up" describes the real thing, from the earliest training to the benevolent societies and choices to take promotional exams (or not). Nagle has brought to life an interesting, vibrant, and important subculture in New York City, one we regularly choose to overlook. Read this accessible and well-written book and you will understand your world a little better.
What's the best decoration you ever saw on the front of a truck? (Yes, Nagle touches on mungo, pieces taken from the trash, and includes it in her extensive and useful glossary.) Let us know in the comments.
See you in January! I hope your holidays are filled with good books.
Have a book you want me to know about? Email me at asbowie@gmail.com. I also blog about metrics at asbowie.blogspot.com.