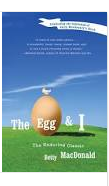 by Alexandra Bowie
Isak Dinesen, famously, had a farm in Africa. Perhaps less famously, but just as important to her writing, Betty MacDonald had a farm too, a chicken farm, set in the lap, as MacDonald puts it, of the Olympic Mountains. The countryside, she says, "is describable only by superlatives. Most rugged, most westerly, greatest, deepest, largest, wildest, gamiest, richest, most fertile, loneliest, most desolate – they all belong to the coast country." MacDonald describes the two years she and her husband Bob lived there in her hilarious, vivid memoir "The Egg and I," first published in 1945 and re-released in paperback in 1987.
MacDonald was born in Boulder and grew up in Butte, Montana, one of four children. She married at 18. Bob, a friend of her brother's, was 13 years older and, for whatever reason, wanted to be a chicken farmer. MacDonald writes:
Why in God's name does everyone want to go into the chicken business? . . .There is one thing about the chicken business: if a hen is lazy or uncooperative or disagreeable you can chop off her head and relieve the situation once and for all. . . In a way I suppose that one factor alone should be justification enough for most men's longing for chickens, but again I repeat, why chickens?
But chickens it was and MacDonald, determined to be happy where her husband was going to be happy in his work, was off to the farm.
There was a lot of work to do: constructing outbuildings for chickens, building pens for the pigs, plowing and planting the garden, clearing the orchard and, last and perhaps least, fixing up the house. That got done just in time for winter – a long, wet winter. "It rained and rained and rained and rained and rained. It drizzled–misted–drooled–spat–poured–and just plain rained." The house had no running water and the stove, or Stove as MacDonald calls it, was "a sinister presence" tricky to manage. MacDonald's description continues:
Incongruously, things did boil on Stove. This always came as a delightful shock, albeit I finally stopped rushing to the back door and shouting hysterically to Bob, quietly and competently at work, "The water is BOILING!" as I had done for the first few hundred times I had witnessed this miracle.
The MacDonalds lived on that isolated farm for two years, self-reliant and more and more competent. Their first child was born when they lived on the farm, and MacDonald describes her relationships with neighbors, more distant neighbors, Indians, and family members who wrote long letters and occasionally visited. At one point, touring the county fair, MacDonald comments on the wide range of fancy work on display: canning and quilts and hooked and braided rugs, but also "catsup bottles made into bud vases, clothespins decorated with crepe paper butterflies . . . It was an impressive display of what loneliness can do to people." MacDonald is famous as the creator of the beloved "Mrs. Piggle-Wiggle" stories, and readers familiar with those terrific stories can catch glimpses of scenes or settings that made their way into some of my favorite childrens books, as well as "Nancy and Plum."
"The Egg and I" is a delightful book, as fresh now as when it was first published. Don't miss it.