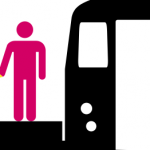 The New York Transit Museum and Extreme Kids & Crew invite families with children who have special needs to visit the Transit Museum on Sunday, January 22 for a Special Day for Special Kids. Families with special needs kids receive free admission to the Museum between 10 am and 11 am, with a 50% discount thereafter when the Museum opens to the general public.
A variety of transit-themed activities are scheduled throughout the day including an art project using old metrocards, a scavenger hunt on the Museum's platform level and a musical performance by the Brooklyn-based M Shanghai String Band. In addition, a "Quiet Room" for special needs families will be available from 10 am to 2 pm as a place to take a break from the excitement.
The Transit Museum offers a number of programs for special needs children, including guided programs for school and camp groups, travel training to learn independent travel on the subways, and the Subway Sleuths Afterschool Program where children on the autism spectrum practice social skills while working together on projects about subway history. Extreme Kids & Crew is a parent-run, non-profit organization that provides a safe sensory space where Brooklyn's kids with disabilities and their families can gather to play, teach, learn, sing, sprawl and be.
The New York Transit Museum is located at the corner of Boerum Place & Schermerhorn Streets in Brooklyn. For general information, call  (718) 694-1600  or visit the website.