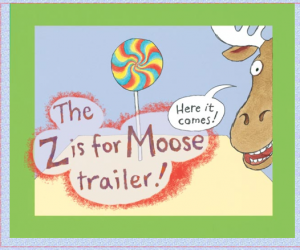 Z is for Moose, by Kelly Bingham, illustrated by Paul O. Zelinsky, was published a couple of weeks ago, and now, in a reversal of the usual order, the trailer has just been released. (Click on the link, not the picture, to play the trailer.) Creating the trailer was something of a labor of love for  Paul O. Zelinsky, the illustrator and children's book author. He says,
"I don't like making a book and just going on to the next one. Book trailers are more of a thing for Young Adult books, but I wanted to see one for Z is for Moose, so I was going to  make it myself, and teach myself more about animating in the process. In the end, I got some professional help to move it along. I wrote a script first, but even before that I asked Maurice Sendak to record something for it. I knew Maurice when I was his student in 1971, in the first class he ever taught. Several 'Oy gevalts' [look for the glove] were the improvisation he recorded into my computer when my wife and I visited him in February.

"Then I decided to populate the soundtrack with other illustrators. Except for a couple of the mutterers and for Moose, who is my 14-year-old neighbor, they're all illustrious names in the field of children's illustration. All are from Brooklyn, too, at one point or another. Brian Selznick (Apple) is the author and illustrator of The Invention of Hugo Cabret, which became the movie Hugo. Sophie Blackall (Kangaroo) is the creator of a wonderful poster you can see currently on many F trains, and has work on exhibit at the main branch of the Brooklyn Public Library. John Rocco (baby kangaroo) won a Caldecott Honor this year. I could go on…"
We hope you do. In the meantime, get the book for anyone in your circle of friends who is in the right age range (1-100) – it's hilarious.