The Urban Folk Art Gallery buzzed with a frenetic energy as intense as the vibrant artwork adorning the walls during the opening party for "The Usual Suspects 2" graffiti exhibition on Friday night.
Friendly shouts of greeting filled the air as visitors eagerly lined up to draw their own graffiti art alongside some of the local legends featured in this group show. Such is the notoriety of these "old school" graffiti artists that the NYPD Vandal Squad appeared outside the opening of their first exhibition together last summer, according to Urban Folk Art Gallery co-owner/co-curator Adam Suerte.
"The first "Usual Suspects" show we did was at the Last Exit and that went over really well, so this is just an expansion of that one," said Suerte, whose gallery opened this past January. "We added more guys who were writing graffiti a little earlier, but I'd say 95% were based in Brooklyn when they started."
The exhibition is comprised of 29 works by Suerte and 13 other artists, who are all over the age of 40 and started out in New York City's graffiti scene during the 1970s and 80s.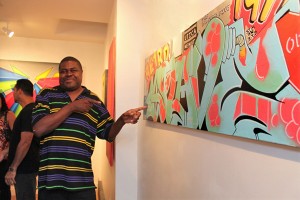 "At the time I was doing it, we were inventing all these styles that they're using now," said artist Kenneth Durant (aka SLAVE), who was part of the infamous Fab 5 crew that covered entire subway trains with graffiti in the 1970s. "I get a lot of respect from these newer guys because I was doing it for real on the trains," Durant noted.
Past and present collide in Durant's untitled painting on display in the exhibition. His tag or graffiti signature looms large on the canvas, with just a glimpse of a train car in the background. Painted when Durant first returned to New York City in 2009 after a 30-year absence from the scene, it is actually a reproduction of a SLAVE graffiti piece from 1977, when "bombing" No. 5 subway trains with his work was a regular habit.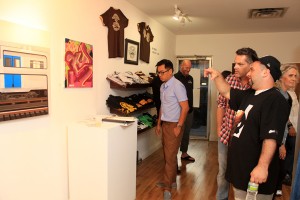 Times have changed for Durant, who now only leaves his mark on canvases and public spaces where graffiti art is permitted. "Legal stuff only," he explained. "I don't have time to go to jail."
"The Usual Suspects 2" co-curator/artist Anthony Jehamy (aka DANCE) has also left the thrill of illegal art behind to work on commissioned murals, smaller canvases and photography. "I started taking it to another level," Jehamy said. "It's not only graffiti that I'm into… I like all forms of art."
When Jehamy was painting "A Piece in the Sun," which is one of his three works included in the show, he was reminded of the days when he would go out alone to write graffiti. "I was in my house without any of my friends and when I started blending the colors, it made me think of the molten surface of the sun," he noted. His tag seems to burst forth from the canvas, set against fiery swirls looping in the background. "I wanted it to be almost like charred lava inside the sun… it's like the sun is giving me my shine," Jehamy explained.
Seeing his work showcased in a gallery gives Jehamy "a different type of rush," then the adrenaline surge he felt when spotting his tag on subway trains. "Seeing it on a canvas in a gallery, it's a good feeling. It makes me feel like I've upped my game and that personally, I've taken it to another place."
"Back then, it was an adventure," added artist Eric Molina (aka KC), who has three pieces on exhibit in the show. "Right now, it's trying to keep up a legacy."
"Graffiti is in my blood," explained Molina, as he made his way through the throng of visitors to leave his mark alongside their tags on a sheet of paper tacked up by the gallery entrance. "I'm an old man writing graffiti, but the youngster in me keeps me doing it."
"The Usual Suspects 2" Art Show will be up until the end of August at the Urban Folk Art Gallery located on 101 Smith Street. The exhibition showcases the work of graffiti artists ALIVE, BASIC, CHIEF, DANCE, JAMES TOP, KC, KEO, MOS ONE, POET, REBEL, REK, SLAVE, SNATCH and SUERTE.
Photos by Lori Singlar for the Brooklyn Bugle