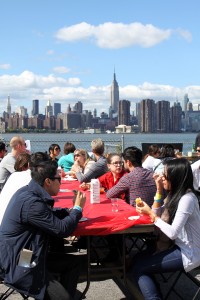 A strip of Williamsburg waterfront was transformed into a smorgasbord for the senses on Sunday, as
some 2,000 visitors from Brooklyn and beyond streamed into the CitiStorage lot at 5 North 11th Street to sample tantalizing dishes and drinks, dance to live music, and watch a butcher demonstration-cum-performance piece at the 2nd annual TASTE Williamsburg Greenpoint benefit that raised approximately $75,000 for the Northside Town Hall Community and Cultural Center.
"There is a really good variety – I love it," said Greenpoint resident Erin Lee. "It's like I've been all over the world."
Switching the venue from last year's block-long spot on Williamsburg's public streets to this year's location on CitiStorage's private property gave event organizers the ability to feature an expanded lineup of restaurants and bands, as well as the addition of alcoholic beverages and the culinary performance piece.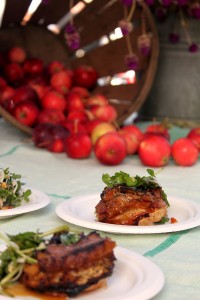 "Being in a private location as opposed to being on a city street allowed us a little more freedom to do what we had envisioned for year one – that big block party feel," said TASTE co-chair Melissa Estro.
Armed with festival maps and tickets (day-of prices ranged from $40 for 10 tastes to $90 for unlimited samples), attendees navigated their way around the event's food stands and beverage tents manned by nearly 60 local restaurants, bars and businesses that doled out everything from wild boar ribs to absinthe milkshakes. With food and drink in hand, festivalgoers snagged seats at picnic tables with a waterfront view, while others stood in front of the music stage or gathered around the butcher demo/performance piece.
"There is a diversity of food… and everybody has been really nice," said DUMBO resident Jack Berkowitz. "And the (butcher) demonstration has been spectacular."
The inclusion of the culinary performance piece gave event attendees an up-close look at the "farm to table" process during a fascinating two-hour demonstration/discussion that involved anatomy lessons, proper butchering techniques, cooking tips and audience participation. While butcher Andrew Dorsey from Williamsburg-based Marlow & Daughters meticulously carved up a 110-pound half pig and described the various ways each cut could be prepared and served, performance artist Carrie Ahern discussed the animal's anatomy in an interactive lesson that quickly attracted a small crowd.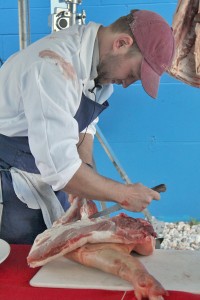 "I'm hoping to get people a little more connected to where their food comes from," Ahern explained. "The process of how we get our food is so slow and complicated, while our experience with it is one of convenience."
"It is something greater than just a cellophane-wrapped Styrofoam tray in a supermarket fridge," Dorsey added. "I hope (the performance) will bring more of an appreciation for the similarities between us and the animals that we raise for our nutrition."
The pair led their audience on a sensorial journey through the butchering process, with Ahern using former dancer Rebecca Smith and volunteers from the crowd to draw comparisons between the anatomies of pigs and humans. As Dorsey cut into each part of the animal, Ahern touched related spots on her human models and discussed the functions of various muscle groups for both pigs and people.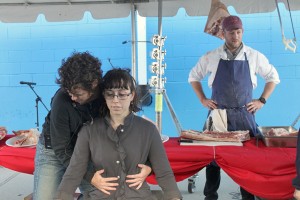 Spectators were also given the option of participating in a tactile exercise when Ahern passed out disposable gloves and invited them to probe the glistening cuts – exposed muscles and all – that Dorsey piled onto platters.
"I thought it felt really slimy and kinda gross, but when you cook it into bacon, it tastes really delicious," said one of the youngest audience members, 10-year-old Adrian Korin from Greenpoint.
"I like the fact that we are trying to connect the animal to what is on our plate, so from the standpoint of agriculture, we'll hopefully have a little more respect for how we handle and treat animals before we serve them up as food," added the youth's father, George Korin.
Some curious passersby paused to watch and then quickly walked away in disgust, while others were impressed by the knowledge imparted by Ahern and Dorsey.
"I thought it was fascinating," said Manhattan resident Sarah Chiapetta. "I think it is really important for people to see where their food comes from and not just see a piece of bacon on a plate. I think it is fine to eat meat as long as you have that understanding."
The culinary performance piece also gave festivalgoers a glimpse into the range of cultural programming offered by the Northside Town Hall non-profit that benefited from the TASTE fundraiser. Proceeds will be used to redevelop Williamsburg's shuttered firehouse at 134 Wythe Avenue into a community center focused on art and activism. Formed by local advocacy groups Neighbors Allied for Good Growth and The People's Firehouse, Inc. who are heading up the renovatio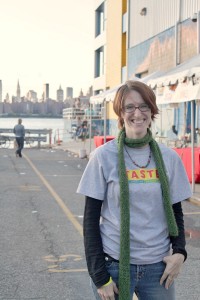 n project, the non-profit has already staged performances at the site, which will be reborn as the Northside Town Hall Community and Cultural Center once the proposed $2-million revamp is complete.
"We have this Northside Town Hall Arts Happening Series that is now in its second year… and when we were looking for artists, we started talking with Carrie Ahern and the TASTE was coming up," said Northside Town Hall board member and art committee chair Jaclyn Moynahan. "Since it is all about food, what better place to present her work? It became this perfect pairing."
Ahern will premiere her Borrowed Prey show, which incorporates elements of her TASTE performance, at Manhattan's LAB Gallery in April 2012.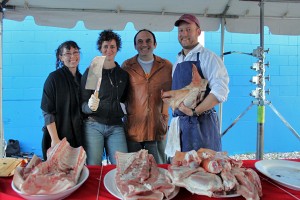 Photos by Lori Singlar for the Brooklyn Bugle