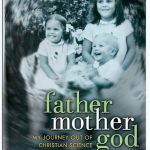 Like other kids growing up in suburban Minnesota, Lucia Greenhouse loved her parents, and was lucky enough to grow up near an extended family of grandparents, aunts, uncles, and many cousins. Unlike many other kids and all of her cousins, Greenhouse was brought up by parents who had converted to Christian Science during her childhood, fortunately, she points out, after Greenhouse and her two siblings were old enough to be vaccinated. As Greenhouse describes it in her new memoir fathermothergod: My Journey out of Christian Science, all three suffered through the chicken pox with untreated symptoms.
Greenhouse's father became a Christian Science Practitioner while she was growing up, and the family moved away from Minnesota, first to London, and later to New Jersey. The children were placed in Christian Science boarding schools. Greenhouse leaves most of the theology of Christian Science obscure, outlining it only with respect to medical care. As she explains it, Christian Scientists don't treat sickness using modern medicine, believing that we are made in God's image and likeness and are spiritual, not material, beings. And therefore can't be sick. Greenhouse meditates on various statements from Mary Baker Eddy's book Science and Health with Key to the Scriptures and then keeps finding herself tied in logical knots because of them (including, for example, the problems death poses Christian Science).
Many illnesses cure themselves with time. But some diseases don't get better: untreated, they get worse. This clear-sighted memoir describes Greenhouse's mother's decision to use Christian Science to treat what turns out to be an abdominal cancer. The suffering wasn't limited to Greenhouse's mother. As Greenhouse describes it, Christian Science Practitioners use prayer and urge good thoughts to help adherents overcome illness (though they don't use that word). They also, according to Greenhouse, shun doubters, whose negative thoughts might induce 'mental malpractice', and Greenhouse and her siblings were kept away from their mother for months during her illness. And because family members may object to the rejection of modern medical treatment, Christian Scientists don't talk about even obvious illness, insisting that nothing is wrong. Greenhouse and her siblings were forbidden to discuss their mother with their grandparents, aunts, and uncles.
Greenhouse illustrates the pernicious effect the demand for secrecy has on family life. Several generations of her large family were cut off from each other during her mother's stay at a Christian Science nursing home, and Greenhouse's extended family didn't learn about the illness until nearly its end. Greenhouse's description of coming to terms with her mother's illness, its treatment, and all the many consequences including vast troughs of anger, fear, and guilt, make for a moving and compelling story.
I can't say this is an easy book to read because the pain that Greenhouse and her family experienced is rendered so palpably, but I urge you to read it because the lessons about secrecy Greenhouse ultimately draws are universal. Do you agree or disagree? Let us know in the comments.
Have a book you want me to know about? Email me at asbowie@gmail.com.