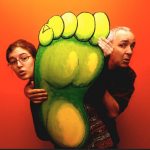 Looking for something to do with the kids over spring break? The Transit Museum will be presenting a 30-minute long, kid-friendly original musical, 'Sharin' a Ride,' twice a day from April 10 through April 15 (show times are below). The musical, which knits together Earth Day and the transit system, make concepts like sustainability and carbon footprint accessible for children using sing-alongs and skits.
Suitable for children of all ages above age 4, the performance is free with Museum admission ($5/child, $7/adult).
Performance times: Tuesday, April 10 through Friday, April 13 at 11 am and 1:30 pm
Saturday, April 14 and Sunday, April 15 at 1:30 and 3:30 pm
The Transit Museum is located inside the subway station on the corner of Boerum Place and Schermerhorn Street, Brooklyn. More information is available here.
Image courtesy of the New York Transit Museum