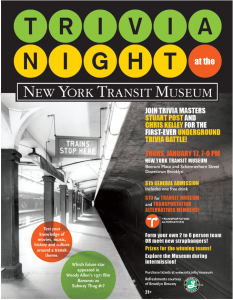 What: Pop culture and transit facts trivia, with Stuart Post and Chris Kelley as MCs
When: Wednesday, January 17, from 7-9 pm
Where: New York Transit Museum, Boerum Place and Schermerhorn Street, Brooklyn Heights.
Must be: 21 or older. Refreshments provided by Brooklyn Brewery
Admission: $15 general admission, $10 Transit Museum or Transportation Alternatives members. Admission includes one drink. Tickets are available here.