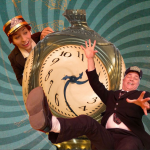 The New York Transit Museum will hold three performances daily of an original children's musical every day from March 23 – April 2, during spring break. "Make it Grand!" is all about Grand Central, the engineer who helped design it, and its decoration – from the acorns and oak leaves to the stars of the zodiac on the ceiling. Recommended for ages four and up. Performances are free with museum admission.
The performance times are Saturdays and Sundays at 12:00, 1:30, 3:00; Tuesday-Friday at 11:00, 1:00, 2:30. The Transit Museum is closed Mondays and Easter Sunday.
The Transit Museum is located at the corner of Boerum Place and Schermerhorn Street in Brooklyn Heights. For more information, see the Transit Museum's website.