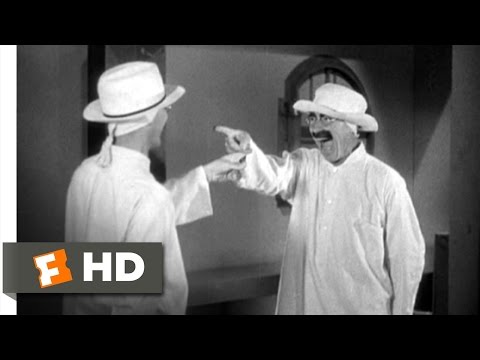 Hail Freedonia!!
It's the 15th year for Brooklyn Bridge Park's Movies with a View which will kick off with the Marx Brothers' Duck Soup on July 10 on the Harbor View Lawn.
All films this year have an "animal" theme…sorta…
7/10 – Duck Soup
"I'm in a hurry! To the House of Representatives! Ride like fury! If you run out of gas, get ethyl. If Ethel runs out, get Mabel! Now step on it!"
The Marx Brothers take fictional Europe in this Depression-era classic. To stay afloat, the small, bankrupt country of Freedonia must borrow a huge sum of cash from wealthy widow Mrs. Teasdale (Margaret Dumont). But there are strings attached to her loan: she insists on replacing the current president with crazy Rufus T. Firefly (Groucho Marx) and mayhem erupts. [G] Short: Silo by David Soll

7/17 – Sharknado
Description TBD. [NR]
Short: Phoebe's Birthday Cheeseburger by Will Lennon

7/24- Fantastic Mr. Fox
"One of those slovenly farmers is probably wearing my tail for a necktie."
One of Roald Dahl's classics hits the big screen in Wes Anderson's quirky, stop-motion animated film. Mr. Fox (voiced by George Clooney) and his thieving ways are threatened by three mean farmers, but his friends, family and neighbors come to his aid. [G] Short: Font Men by Dress Code

7/31 – Beetlejuice
"I've seen The Exorcist about a hundred and sixty-seven times, and it keeps gettin' funnier every time I see it!"
A young couple (Alec Baldwin and Geena Davis) lead an idyllic country life until they accidentally drown and become trapped in their old house as ghosts. This ghost couple attempts to scare off a family of cosmopolitan New Yorkers that move into their home, eventually enlisting the help of an insane poltergeist, Beetlejuice (Michael Keaton). A darkly funny vision of the afterlife that made director Tim Burton a household name. [PG] Short: Passer Passer by Louis Morton

8/7 – Cat on a Hot Tin Roof
"Careful Maggie, your claws are showing."
The Tennessee Williams play comes to life as Maggie (Elizabeth Taylor) and Brick (Paul Newman) duke it out while celebrating his the 65th birthday of his father, Big Daddy (Burl Ives). The temperatures are high, but the tensions are higher in this classic. [PG] Short: Unlocking the Truth by Luke Meyer

8/14 – Ghost Dog: The Way of the Samurai
"All the rappers, they got names like that: Snoop Doggy Dogg, Ice Cube, Q-Tip, Method Man. My favorite was always Flavor Flav from Public Enemy. He got the funky fresh fly flavor."
Hip hop, samurai culture, and italian gangsters come together in this oddly quiet action movie by independent spirit Jim Jarmusch. Ghost Dog (Forest Whitaker) is a reclusive hitman who lives by a strict samurai code. When his mafia employers turn against him, Ghost Dog must go to war against an gang of old-school Italians that simply do not understand his ways. [R] Short: The Roper by Ewan McNicol, Anna Sandilands

8/21 – The Birds
"The very concept is unimaginable. Why, if that happened, we wouldn't stand a chance! How could we possibly hope to fight them?"
Alfred Hitchcock's masterpiece of horror, mystery, and slow-burning suspense. A beautiful socialite (Tippi Hedren) visits the sunny town of Bodega Bay, where the weekend's peace is shattered by a series of inexplicable bird attacks, one more violent than the next. These attacks grow increasingly bigger and more gruesome until the entire town finds itself under siege from above. [PG] Short: Woodhouse by Fred Rowson

8/28 – Public Vote!
As is tradition, Brooklyn Bridge Park Conservancy and Syfy invite the public to vote on the last film of the summer. Stay tuned to www.brooklynbridgepark.org for details throughout the summer.

Source: Brooklyn Heights Blog
http://brooklynheightsblog.com/archives/67052