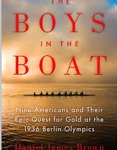 In the early 1930s, the United States was deep in the Depression with millions out of work. Hitler gained control of Germany, and persuaded the International Olympic Committee to award the 1936 Summer Games to Berlin. According to Daniel James Brown's account there was a brief US effort to boycott the Berlin games but nothing came of it. Without those games we would not have the inspiring story of Jesse Owens. It turns out that there's another story, too, about the eight-oared crew that represented the Americans in those games.
Rowing crew may appear to be an elite sport, but as Daniel James Brown tells it, the young men (Brown refers to them as boys throughout the book, because they were 18, 19, 20, perhaps 21 years old in 1934-36) who won that medal were not privileged. The boat representing the US was the varsity crew of the University of Washington, made up of students who were the sons of farmers, or loggers, or men who had tried and failed at business.
Brown builds the book around Joe Rantz, and that's because Rantz's story is singular. His mother died when he was quite young, and his father abandoned him not once but twice. The second time, Rantz came home from school at the age of 15 and found his father, step-mother, and half-siblings in the car, packed and ready to go. They left him in a half-finished house, on a half-cleared farm, with almost no food and no money, to fend for himself. Which Rantz did. He also finished high school, worked for a year, and saved enough money to enroll in the University of Washington.
None of the other crew members had quite as devastating a history, but each of them had similar drive and determination. Brown describes practices that took place in snowstorms, students who took janitorial jobs so they could stay in school, and student athletes who didn't have enough to eat. Every word is compelling. The book is consistently terrific, and Brown is perhaps at his best at conveying the excitement of boat races that took place 80 years ago.
Part of Brown's narrative follows the German preparations for the Olympics. It's necessarily brief, and largely focused on the propaganda value the Olympics had for the Germans (most notably through Leni Rifenstahl's film "Olympia"). Threading throughout is the contrast with the drive and sheer grit of the Americans. Here is one example:
[W]hen Hitler watched Joe and the boys fight their way back from the rear of the field to sweep ahead of Italy and Germany seventy-five years ago, he saw, but did not recognize, heralds of his doom. He could not know that one day hundreds of thousands of boys just like them boys who shared their essential natures–decent and unassuming, not privileged or favored by anything in particular, just loyal, committed, and perserverant–would return to Germany dressed in olive drab . . .
A tale of "the greatest Olympic race you've never heard of," the story of a surprisingly resilient young man, and a history of a demanding sport, "The Boys in the Boat" is a book you don't want to miss. Which episodes stick with you? Let us know in the comments.
Have a book you want me to know about? Email me at asbowie@gmail.com. I also blog about metrics at asbowie.blogspot.com.