Despite all our ascents into art and madness
(decade-long day trips to the hills to hear the humming airsome arpeggios of Pink Floyd and the teen-high whimsy of Kinks; forays through dark foreign alleys to be happily harangued by Nick Cave or Scott; even the years spent banging our heads against the broken-glass walls of Branca),
there is still nothing
Utterly nothing
Like a rolling pin beat-down by the boogie of pure rock'n'roll, when it's done just right and infected by the spirit of Hadacol and Café Bustello and bar-call leaf-chalk whiskey and dumb angel punk.
I'm talking about
Gene Vincent '63 (his face screwed tight against the pain, beating Long Tall Sally like it was by the Bad Brains), Jerry Lee live at the Star Club (hammering so fast that the band lifted off the earth to escape the law and the shadow of the Good Book and the Bad Girls), Bo Diddley (crossbreeding the drums of Congo Square with a coughing guitar reinterpreting the jet age roar),  Wynonie Harris (stapling his balls to his heart and baritoning the blues and inventing Elvis and modern rock'n'roll signing), The Pretty Things (pinning the VU meters into the red and saying to the Stones "You think you're the Stones? We are the Stones you pale Edwardian fuckshits!")…
And on and on and on —
Slave ship archetypes and fishnets thieved from Sex and Blue Moon Saloon two-step hollers and Extra Place bar chords and Sun Studio slap-back all reduced to a ruby-red rock'n'roll roux for our shabby pleasure;
And the best pure rock'n'roll band I ever saw, whirring and hissing and rolling and flying like preachers and carnys and hounds and heroes, was the Heartbreakers
Johnny Thunders, Walter Lure, Jerry Nolan, and Billy Rath.
And just a few days ago bassist Billy Rath passed to another side, forward or backwards or sideways or no ways at all.  And we honor him, a handsome man who anchored the booming, snaking, shaking, sliding, slumping, spitting, self-defeating and profane rock'n'roll machine that was The Heartbreakers.  The Heartbreakers, who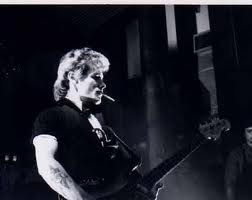 Churned out a beautiful sibilant grind of blues-and-R&B-based rock and roll, the sugary juice and the tart rind of almost a century of whoreshriek fruit, birthed from the sassy shortin' bread boogie of Bolden and Jelly Roll, schooled and ass-slapped by Louis Jordan and Fats Waller and Eddie Cochran, infected by the sad speed-death of punk and for a few moments alive alive alive under the low black ceiling of Max's Kansas City.
I never ever never saw a better pure rock band, awesome and awed, heretical and respectful of the church located at the intersection of Basin Street and Highway 61 and the Kings Road, unclean yet beautiful, teetering like a wine'd-up wire walker between Twin Towers of Beale Street and Bowery. And when they were on I never saw such a perfect specimen of the boogie animal, barely leashed and hungry and humping the neighbor's record collection.
I have seen other acts approach their careening abandon, or achieve it for a few sacred moments, manifesting the sound of a spit and shit-stained subway laden with refugees from the jubilee of the 12 bar beat down; but I've never seen anyone sustain it, be such perfect examples of it.  And although it's worth honoring those who I saw with my very own eyes come close (Roy Loney and the Phantom Movers, the Marc Riley-era Fall, even Hanoi Rocks), no one else was it and nothing but it, no one else played the hopped up Hayride/City-side truth and nothing but the truth, the way the Heartbreakers did.
"When they were on…when they were on…when they were on…"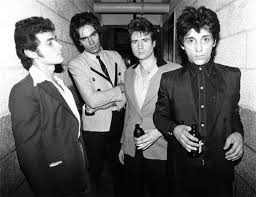 I can hear myself intoning that qualification to "the truth," over and over; because about two-thirds of the time, Thunders was only there in body but not spirit, and the awesome auto-tiger didn't purr but limped along on three wheels.  But  despite that fatal and tragic flaw, it's all there, thumping and roaring and twitching and soaring like an electric eel dancing to the Treniers and Brother Ray, on their exquisite LAMF album, oh and by the way, get the original "flawed" mix; the mad compression and lack of high end on the much-criticized original mix was, in fact, perfect for the Heartbreakers' blend of old school Rocket 88-isms meets Neat Neat Neat speed, and when the Clorox of modern technology was applied by some well-meaning hacks, the result dimmed the seismic muffle shuffle of the original boogie boulder; so accept no substitutes.
And although Billy Rath has passed, as has Johnny and Jerry, Walter Lure not only lives but keeps the spirit very, very much alive; like Neil Young or McCartney or Leonard Cohen, Waldo still steps out on stage and careens and hops and prays to the rock'n'roll saints like he was doing it for the vey first time, like every moment mattered, like every audience member had to be won over for the four thousandth time.  The soul and life force of The Greatest Rock'n'Roll Band is still alive in his high top sneakers and gold top guitars, it is a reunion of the heart of the Heartbreakers every time he steps on stage.
Much peace to Billy, Johnny, and Jerry. Long live Walter Lure, and long may he rock.