A true rumor defies the post-space age hum of the Internet. A true rumor is like a summer rain: it may come on suddenly or it may not come at all, it may be sensed as a lithium lightness in the air when it is an eighth of a mile or a way or it may not even be believed after it has already occurred.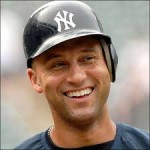 The gravest keepers of baseball's most somber secrets, those who hover around (and above) the game at a Templar-like level of secrecy and power, are beginning to talk in tones hushed but firm that September 28, 2014 may not be Derek Jeter's last game as a player.
First, a tiny dollop of back-story to explain how I have gained access to these secrets, and to underline my credibility: Many years ago when I was working in Los Angeles at a major record label, I made the acquaintance of a fellow from a group called Corporis Fraternitatis Giamatti. In exchange for access to master tapes of unreleased material by some very major rock bands, this person would give me remarkable inside information on MLB injuries, potential trades, home-team favorable groundskeepers, even stadium PA system operators who would feed tones through the system that could disturb an opposing pitcher or batter (but were undetectable to the human ear). There was more to this transaction, by the way: The CFG, in league with a sometimes allied, sometimes rival organization called Nos Custodire Moe Berg Sepulcrum, would sell bootleg CDs gleaned from these musical rarities (this was before the ubiquity of free downloads and streaming). With the profits, they would finance some of their more shadowy operations, including deeply entrenched groups that sought to overturn Interleague Play and the DH Rule; one of the more extreme splinter cells, Земля за Sabermetrics, was determined to use every means possible, including violence, to end night baseball (it was rumored that Земля за Sabermetrics were involved in the 1996 on-field death of umpire John McSherry). This was all very interesting and very, very hush-hush.
But back to Jeter. I have gleaned the following from my various sources at the above-named organizations, with some of the more specific details drawn from an Irish-American super-fan sect called An Cumann na Veeck mar atá i Wreck. By the way, I do not fear reprisal from these organizations whose secrets I disclose, since I have held on to some Bon Scott Back In Black demos that they very badly want.
The following plan is to go into effect after Jeter's "final" game (presumably in Boston on September 28, though this arrangement is flexible, depending on whether the Yankees choose not to play Jeter following their September 25 home finale):
After he leaves the field and the post-game press conferences, Jeter will be discretely placed in the custody of a long-time Yankee fanatic named Jose D'Arimathea. Jeter will discard any clothing in which he could be recognized, and slip into a shroud-like hoodie that D'Arimathea has designed and prepared just for this occasion.
D'Arimathea and the disguised Jeter will than withdraw to a small basement apartment on Moshulou Parkway in the Bronx that D'Aramithea has outfitted specifically for this purpose. They will be assisted in this clandestine operation by a local bar owner named Nick O'Demus, who is the member of a secretive fantasy baseball operation called the Sandlot Hedrin.
Once installed safely in the cave-like apartment, Jeter will rest, deeply and very quietly, for a short period of time.
After three days, a female fan of Jeter (who will be present at the initial stage of Jeter's furtive transportation from the Stadium to D'Arimathea's apartment) will arrive at "the cave," only to find that the door is open and Jeter is no longer inside. Since great care will be taken to lock the apartment door from all sides to insure Jeter's privacy, the open door and the absence of Jeter will come as a great surprise to the visitor. The female follower will tell D'Arimathea, O'Demus, and other disciples of Jeter that he has risen from his slumber, in defiance of the pre-ordained plan and natural law (the door to D'Arimathea's apartment had been considered impenetrable, both from inside and out).
Soon, many people, Yankees fans and non-fans alike, will report sightings of Jeter playing ball in the Caribbean Winter Leagues. Although these reports will seem barely credible at first, soon the whole Baseball world will be buzzing with multiple accounts from plausible sources of sightings of Jeter on ball fields from Mazatlan to Mexicali, Culiacan to Hermosillo. Jeter's play will be strong and consistent, and he will perform at a level of skill and athleticism he has not performed at for years.
These sightings will be so far apart in terms of distance (yet in such close proximity, time-wise) as to be hardly believable; but the witnesses will insist – indeed swear on their life – that they have seen Jeter walk again on the diamond.
These sightings will last exactly 40 days. During that time, there will be occasional glimpses of Jeter off the diamond; in fact, he will appear to a small group of fishermen in the small village of El Cuyo, Yucatan, and help the locals land a particularly large haul of Mosquitofish. He will also encounter a cynical, Jeter-hating blogger named Sol Tarsus, who will be so overwhelmed by seeing Jeter back on the playing field that he will abandon his Jeter-mocking ways, re-name himself after legendary Yankee Paul O'Neill, and spend the rest of his life preaching Jeter's greatness.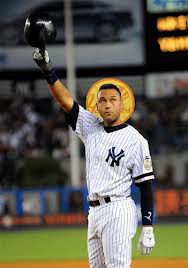 After 40 days, Jeter's mysterious and almost miraculous "resurrection" tour will end as abruptly as it started. Those fortunate enough to have seen Jeter, post-retirement, in uniform on the baseball fields of the Caribbean, will have their lives changed forever, and they will have a renewed faith in the power and glory of Derek Jeter, a faith that will warm them and inspire them for the rest of their lives.
And Peter of Gammons will proclaim: "He has risen! Remember how he told you, while he was still with you in the Bronx: 'The Son of Sanderson must be delivered over to the hands of statisticians, be criticized and on the third day be raised again.' "  And Jim of Rome will say "Then Jeter came to them and said, 'All authority in Cooperstown and in Bristol has been given to me.  Teach them to obey everything I have commanded you, with the possible exception of an endorsement I made for Florshiem. I mean, really, can you imagine me wearing anything from Florshiem? And surely I am with you always, to the very end of the age.' "