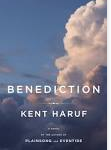 Kent Haruf's meditative new novel "Benediction" is, like his previous books "Plainsong" and "Eventide," set in the high plains farm country of eastern Colorado. "Benediction" follows four families in small-town America over the course of a summer. Dad Lewis, the owner of the hardware store still in business on Holt, Colorado's Main Street, has been told his cancer is terminal. His wife, Mary, looks after him, and their daughter Lorraine comes to stay too. It's unquestioned that he'll die at home, and that the hospice nurse will look in every week or so.
Berta May from next door has taken in her 8-year-old granddaughter, Alice, because Alice's mother is dead of breast cancer. Willa and Alene Johnson, mother and daughter, look in on Berta May and Alice, and on Mary and Dad Lewis, from time to time. All the women are interested in Alice, and help Berta May look after her. Everyone turns for spiritual succor to Robert Lyle, the new minister in town. He lives next to the church, with his wife and son John Wesley. Robert is feeling his way somewhat carefully, but not John Wesley, who is entering tenth grade and would much prefer to have remained in Denver. He is delighted when a girl entering her senior year spends her evenings with him.
Despite the touches of modernity – the regular trips to Denver, the TVs and computers – there's a lot that has remained unchanged in Holt. Teenaged kids spend their evenings riding around in cars. Residents become upset when Minister Lyle suggests, in a Sunday sermon, that perhaps the US should not be at war in the Middle East and that not all the people there are our enemies. Boys think they know what kind of girl rides around at night with a boy. Men take matters into their own hands, or fists, to teach a lesson. And some kinds of sexual behavior can't be tolerated, so gay men and lesbians tend to leave town.
Modern, and old-fashioned. Life, and loss. Dad Lewis looks back on his long life. He thinks, mostly, about the people he's loved, his wife and daughter. His son Frank, who left town and hasn't looked back. Dad's thoughts often circle back to Frank, and through him to the many others he's hurt, intentionally or not. The others, not dying, have less time for contemplation. Haruf's flat, laconic sentences place the reader deep into this landscape that seems almost as far away in time as it does in distance from the fast-paced coastal cities. Haruf doesn't use quotation marks to indicate speech, and that slows the pace down, pushing the reader further into the minds of the characters as she sorts what is spoken from what is thought.
When crisis comes, the four families turn to each other, because that's what you do. The aching reconciliations – some people might call them compromises – give this lovely novel its life. Should their different beliefs stop them from acting neighborly? Let us know what you think in the comments.
Have a book you want me to know about? Email me at asbowie@gmail.com. I also blog about metrics at asbowie.blogspot.com.