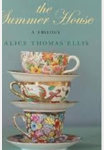 Margaret is to be married to Syl. Margaret is quite young, perhaps 20, and Syl is rather older, in his forties, about the age of Margaret's mother Monica. Syl lives with his own mother, Mrs. Monro (or, often, old Mrs. Monro) in the same private housing estate as Margaret and Monica. Monica's husband Derek left her for a much younger woman, Cynthia, years ago, and Monica received significant assets, including the house, in the divorce. Derek and Cynthia are coming to the wedding. It will be a small wedding, with only 50 guests. Two of them have arrived early: Monica's old school friend Lili, and Lili's husband Robert, an artist, who is to have an exhibition in London around the time of the wedding.
A little more background. There's a suggestion that Monica is not unhappy with the failure of her marriage, though she does wish Margaret were a little less quiet. Lili is half-Egyptian, and Monica and Lili have another school friend, Marie Claire, who lives in Egypt. Margaret had spent a few months with Marie Claire in Egypt before coming back and becoming engaged to Syl. Syl has some history of his own: he's something of a ladies' man, and while he has been engaged several times each time the engagement was broken off. Lili knows something about that.
So there are the characters, and there is some of the history. The rest, including a bit of mystery about Margaret, is revealed gradually, though steadily, in this extraordinary novel. The language is terrific, the inner lives of women well rendered. The characters are strikingly different. The book is in fact a trilogy of novellas, each told in the first person. "The Clothes in the Wardrobe" tells the story from Margaret's point of view. Margaret is irritated by her mother, annoyed by Syl and especially his mother, moons over something that happened in Egypt, and finds Lili fascinating.
In "The Skeleton in the Cupboard" old Mrs. Monro recounts the events of the same period, the couple of months leading up to the wedding. Older people have pasts, and Mrs. Monro's is surprisingly interesting, especially in contrast to the dour brooding presence Margaret ascribes to her. Mrs. Monro and Lili have a history, as do Lili and the late Mr. Monro. They negotiate their way around these potentially awkward moments gracefully and with increasing humor. It helps that they are both equally irritated by the somewhat dim and usually decorous Monica.
"The Fly in the Ointment" is Lili's version of events. Lili is carefree about life, but also a bit too casual in her approach to it – she and Robert frequently freeload, which Lili pays for in charm. She is willing, occasionally, to entertain men, art dealers for example, who might help her husband's career advance. She's sensible and funny and aware of her contradictions. It's Lili, along with Marie Claire – who remains offstage – who provides the key to the mystery and the very satisfying resolution to the story the three women have told.
The artifice is invisible, but each story adds to and builds on the previous narratives. The successive revelations make you laugh or smile in recognition. There are many hilarious moments in this book – let us know your favorite in the comments.
Have a book you want me to know about? Email me at asbowie@gmail.com. I also blog about metrics at asbowie.blogspot.com.
See you in the New Year!