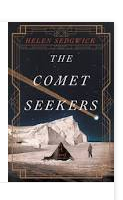 by Alexandra Bowie
Some people stay home and find the world; others must travel the world to find their way home. Roisin and Francois, two of the central characters in Helen Sedgwick's eerie and satisfying novel "The Comet Seekers" meet far from home at a research camp in the Antarctic; she's an astronomer and he's a chef.
Roisin, who's Irish, has spent her life studying the sky; as a child and adolescent she taught her cousin Liam to watch and map the sky whenever a comet appeared, so they could see its movement. Liam, whose mother died long ago, is tied to his isolated Irish farm by his promise to his father to help keep it going. Roisin pursues her studies in Hawaii, New York, and various places in Europe. But Liam draws Roisin back periodically, and at one point she gives up a fellowship in Bayeux, returns to Ireland and stays for a year. We know before she does that Roisin is one of the travellers. We watch her come to understand that truth about herself in a sensitive and beautifully written, very brief, scene: Roisin's mother asks a question whose answer shows Roisin which love she's willing to sacrifice.
Francois is from Bayeux; as Sedgwick puts it, from two channels away from Roisin's village in southern Ireland. He's a few years younger than Roisin, and was brought up by his mother, Severine. Even as a child Francois encouraged his mother to travel – one year they went to Edinburgh, where they ventured out to see a comet and met up with a group of astronomers bent on the same errand. But that's the only trip they ever take, because Severine is held to Bayeux by her family – an extended family of ghosts who keep her company – who cannot find her if she travels far from home.
It's a measure of the power of Sedgwick's concept and writing that the reader believes entirely in the existence of these ghosts. Each family member may choose whether to introduce the ghosts to the next generation or not, and, for Severine, it's an agonizing choice. The ghosts range from Severine's mother and grandmother, to more ancient family members. There are Brigitte, a near-contemporary of Joan of Arc, whose skin and dress flicker like flames, and Aelfgyva, who appears in the Bayeux tapestry (as does, yes, Halley's comet). Severine both wants Francois to believe her and to see the world. Francois worries that she's succumbing to early-onset dementia. The ghosts appear for reasons of their own.
"The Comet Seekers" is broad geographically and temporally, with each era marked by the appearance of a comet and its earth-bound viewers. Sedgwick handles her themes of travel, home, enduring love, and family with a delicate sensibility that keeps the reader on edge and provides an ending that is both satisfying and, for Roisin and Francois, delicately ambiguous.
Have a book you want me to know about? Email me at asbowie@gmail.com. Follow me on Twitter at @abowie917.