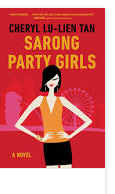 by Nidhi Pugalia
Do we still live in a man's world? In Cheryl Lu-Lien Tan's Sarong Party Girls, the answer is yes. In colorful, delightfully vulgar Singlish — what Tan calls a musical "tossed salad" of the languages spoken in Singapore — Tan captures for her readers the modern Singaporean woman's struggle for relevance within the city's insistent patriarchy, where the only marker of relevance is status, and the only weapon a woman can wield to achieve it is her body. Tan follows four such women, called "sarong party girls," a derivative of Singapore's colonial exoticism in which British officers would bring local women dressed in "sarongs" — dainty wrap skirts — to their private parties. Once used to describe these passive arm-danglers, the term has since evolved to dub Asian gold-diggers intent on attaining a singular goal: landing a white husband, thereby gaining the highest of status symbols — half-white/half-Asian "Chanel babies."
This is exactly the goal of Tan's four women, led by brazen go-getter Jazzy, who mandates a plan for herself and her girlfriends Sher, Imo, and Fann: "Aiyoh…. If we do nothing, we are confirm getting into bang balls territory. We have to…make this happen." Her plan goes awry immediately. To Jazzy's horror and disgust, beautiful Sher marries Ah Beng: a Chinese-Singaporean who Jazzy considers, despite his wealth, the filth of society because he isn't white. Petite Imo is distracted, intent instead on pursuing married friend Louis. Only Fann follows Jazzy's strategy, feigning feeling and exhibiting herself to titillate. Still, her calculated use of affected passion only highlights that for women, "happiness" is reserved for the achievement of social status rather than any personal fulfillment or career advancement, and that love is an absurd goal, if ever it was one at all.
Meanwhile, Jazzy meets only defeat as she grapples with the sexism that dominates her personal and professional life. At nightclubs Jazzy endures the "rubba-ing" of her classmates' husbands, accepting adulterous sexual harassment as unavoidable. She watches as married businessmen at a KTV lounge — a brothel-like establishment — grab and discard scantily-clad girls.
Despite her clear revulsion, Jazzy's witty internal commentary doesn't extend to her actions, which instead perpetuate Singapore's patriarchy. Rather than assert herself, to gain job security Jazzy acts to please her lecherous boss, whether it means serving a drink or herself on a platter. Despite her friendship with Imo, she capitulates to Louis' advances because she feels indebted to him for years of free drinks, arguing, "I had no valid reason to say no" — an infuriatingly hollow excuse.  Here, even her mind betrays her: she unquestioningly accepts that she "can't betray Louis" and instead mentally berates Imo, believing she should appreciate Louis' emotional faithfulness: "otherwise why would he insist that I keep last night a secret…?"
This resigned acceptance and perpetuation of exploitation is disturbing, but deeply relatable; it exposes the complexities and difficulties of being a modern woman anywhere when patriarchal expectations are so pervasive. Still, in spite of first-hand observations of Singapore's sexist underbelly, Jazzy herself remains bafflingly static. The novel drags, reading like one long party interrupted by revelations too sparsely placed to serve as anything more than secondary.
Only when her plan dishonors rather than elevates her does Jazzy begin her awakening — with barely twenty pages left. Dangling on the arm of the white man she's trying to bag, Jazzy suffers utter humiliation at the hands of his boorish, vulgar boss, while her beau listens next to her, silent. Beginning to understand that securing status does not equal gaining respect, she leaves, refusing to be "the Jazzy everyone liked having fun with and no one wanted to keep."
Hoping for a last-minute metamorphosis, for Jazzy to turn into the butterfly we were promised, we instead watch as Jazzy regresses to drunkenness and the party scene. She shows some minimal change: rather than enviously jabbing or mocking, Jazzy congratulates Fann on a successful execution of their plan and wishes Imo happiness. Noting wedded Sher's joy, she allows for the possibility that there may be more to life than a sarong party girl's dream. Not till the very last page does Jazzy act, choosing to forego Singapore's rules and create her own. It's simultaneously too late in coming and too abrupt. The real story — Jazzy's struggle for independence — barely begins by the end of the novel.
Tan's Sarong Party Girls provides fully developed characters who live in a precise picture of contemporary society, but its narrative falls short of presenting the empowering, feminist journey it promises. A sequel that followed spunky Jazzy's journey to independence is one I will pick up, to see if she will live up to her promise: "I am Jazzy – and Jazzy doesn't lose!"
You can read our review of Cheryl Lu-Lien Tan's memoir "A Tiger in the Kitchen" here.
Nidhi Pugalia is an MFA candidate writing fiction and living in Manhattan. Read her blog, or email her at pugalia.nidhi@gmail.com.