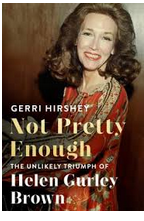 by Alexandra Bowie
For women of my generation, Helen Gurley Brown, the editor-in-chief-forever of Cosmopolitan was close to a joke. Sure, she'd written a book, "Sex and the Single Girl," that our mothers may have kept on their shelves, but she wasn't serious, like Betty Friedan or Kate Millett or the authors of "Our Bodies, Ourselves." Learning that this view of Helen Gurley Brown seriously understates her role as a pioneer in writing about women's sexuality, and as a champion of women's reproductive rights, is only one of the many pleasures available in Gerri Hirshey's well-written biography.
HGB, as Hirshey refers to her, was born in 1922 in rural Arkansas, to a family that had lived in the Ozarks for several generations. Her mother Cleo was a schoolteacher, at least until Helen's older sister, Mary, was born. Her father pushed himself through law school, and was hoping for a career in state politics until his death in a stupid and unnecessary accident when Helen was 10. Her mother appears to have had some sort of communication or emotional deficits – Hirshey is careful not to supply a diagnosis based on behavior that occurred 80 years ago – and after her husband's death tried several times to move with her children to Cleveland, then Chicago. Cleo gave up and returned to Arkansas twice, but succeeded in moving with Helen to Los Angeles.
After finishing high school in Los Angeles, Helen took numerous secretarial jobs – her sister had developed polio, and her mother's second husband was ill with cancer. Helen took job after job, and eventually became an advertising copywriter – one of the first, and in her time one of very few, women to hold that position. She also flung herself, with gusto, into a world of dating and sex, sometimes with married men. HGB didn't intend to marry or have children, and she was an early adopter of birth control methods as they became available. Not all of it was good for her soul, or her psyche, and Helen saved money so that she could afford psychotherapy. She tried out many different strands, and stayed away from the judgmental kind.
All this experience became the source material for her book and, later, for Cosmopolitan, which under Helen's leadership changed from a failing publication to a magazine whose ad and newsstand revenues kept the Hearst company afloat. She did it by sheer hard work, grit and perseverance. More important, she was an advocate for making contraception available for all women and for making and keeping abortion legal.
Helen's marriage to the movie producer David Brown, to whom she was introduced by a mutual friend, was equally unlikely. In Hirshey's account, Brown supported his wife's need to keep working – after her impoverished upbringing Helen refused to stop working. Brown encouraged Helen to write "Sex and the Single Girl," and was thrilled for her success at Cosmopolitan. He played an important role behind the scenes, writing many headlines and helping her think through issues, even while he continued his career as a movie producer (Jaws, Butch Cassidy and the Sundance Kid, Cleopatra). Like Helen, he knew as much about failure as he did about success.
Cosmo, Hirshey tells us, was famous for not using fact-checkers – the magazine's editorial failure to see HIV/AIDS as a disease that reached beyond gay men is Hirshey's main example – and the alert reader may notice errors in Hirshey's book (the Kinsey Institute is located in Bloomington, Indiana, not Bloomington, Illinois, and the University of Illinois is located in Urbana-Champaign, not Bloomington). But the sourcing is detailed, and Hirshey is clear about where she's quoting Helen's friends. So it seems reasonable to assume that most errors, like this one are small – and not a reason to forgo this delightful book.
Have a book you want me to know about? Email me at asbowie@gmail.com. Follow me on Twitter @asbowie917.