Yes, it's true, friends: the world may or may not come to an end this weekend. Apocalyptic prophets have foreseen the Judgement Day, and it is
Saturday, May 21st
. But I have a dinner date on Sunday! Oh, the horror.
As we while away our last precious hours on Earth, it is, of course, appropriate that we turn to the drink. I surveyed local bartenders and their customers to see where, given our limited time, they would head for a bourbon-soaked view of the end-times.
Local tiki parlor Zombie Hut (273 Smith Street) was a popular choice, and as local barmaid Liz says, "if the rapture involves actual zombies there will be plenty of 151 to light them on fire." Ms. Lord also pointed out that Floyd (131 Atlantic Avenue) would make sense, because "we should be able to throw big heavy balls at windows and cars when the end happens."
Beyond the need for implements of riotous destruction, most of those polled chose a cozy neighborhood spot for a final evening with loved ones: an ice-cold martini at Minibar (428 Court Street), a night of Kensington karaoke at Shenanigan's (802 Caton Ave), or finger food and fine cocktails at Sample (152 Smith Street).
Local DJ Steve Reynolds chose Great Lakes (248 Fifth Avenue), where he "spent a large chunk of the night of 9/11 getting my drink on because, well, it felt like the end of the world. And they don't have a TV, so you'll never see it coming." Mr. Reynolds also hosts the "Party Like It's 1999" monthly dance party this coming Friday 5/20 at The Bell House (149 Seventh Street) – dancing your booty off seems like a nice way to go out (and speaking of booty, we hear the party is a rockin' singles scene!).
And for Saturday, that (potentially) final day, where we will (possibly) be judged for our transgressions and/or be whisked away with angels (unlikely), we might as well add to our sins checklist with a night out at The Loft at Public Assembly (70 North Sixth Street). Saturday night the space is host to The Subway Soul Club – nothing like some down and dirty soul music to prepare your soul for The Rapture!
Here in downtown Brooklyn, the streets are filled with seers and soul-seekers shouting warnings and pamphleting the passing masses. I noticed this sign yesterday which had a personal touch to it (being that I'm named after the book in the Bible):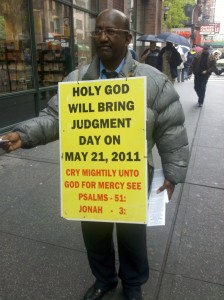 Now, I know my Old Testament, so I checked out Chapter Three of The Book of Jonah. This is the passage in which Jonah delivers God's message that the people of Nineveh must change their ways or be destroyed. The chapter noted on the sign ends with the following (from The New International Version):
When God saw what they [the Ninevites] did and how they turned from their evil ways, he relented and did not bring on them the destruction he had threatened.
So… I guess what you're saying is, we're in the clear if we turn from our evil ways?
Maybe this list isn't the best idea – but of course you should all feel free to enjoy the apocalypse as you see fit.
Hopefully I'll see you on Sunday.