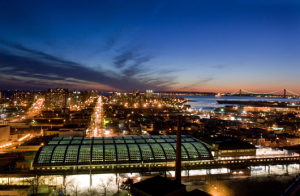 When Hurricane Irene swept through New York City last August, fear and speculation about its strength – and potential to cause catastrophic flooding – brought the city's entire mass transit system to an unprecedented halt. Although the storm's impact was less severe than anticipated, Irene reminded New Yorkers of nature's eminent power over human endeavors. On Wednesday, March 28, esteemed WNYC journalist Andrea Bernstein will lead a panel of sustainability experts in a discussion about climate change and our system of mass transit.
The panel will include Dr. Klaus H. Jacob, a professor at Columbia University's Environmental Policy Program and research scientist at the school's Lamont-Doherty Earth Observatory; and Projjal K. Dutta, A.I.A, LEED AP, who is Sustainability Initiatives Director at the MTA and a leading expert in environmental design and transportation.
The panel is presented in conjunction with the international Planet Under Pressure conference in London, which seeks sustainable solutions addressing issues of climate change. This informal, hour-long program also includes audience Q and A.
Admission is free. The program takes place at the New York Transit Museum in Brooklyn Heights at 6 pm; doors to the program will open at 5:30 pm.
What: Panel Discussion: "Planet Under Pressure: Climate Change and Mass Transit"
Who: Moderator Andrea Bernstein: Panelists Dr. Klaus H. Jacob and Projjal K. Dutta
When: Wednesday, March 28, 6 pm (doors open at 5:30)
Where: New York Transit Museum, inside the subway station on the corner of Boerum Place & Schermerhorn Street, Brooklyn Heights
General information: (718) 694-1600