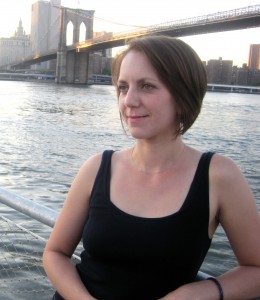 Racy romance novels may not be for every reader, but it's not every day that a writer of one of them presents herself in our neighborhood. Yet there, sitting in Tazza with a cup of tea, was Rebecca Rogers Maher, author of the forthcoming "Snowbound with a Stranger," a contemporary (and racy) romance novel about to be released by Carina Press, Harlequin's digital branch.
Maher, the mother of two young sons, calls herself a typical clog-wearing, playground-hanging neighborhood resident. A former teacher, Maher found that parenting made similar deep spiritual and emotional demands on her. In response, she says, "I decided to make some time for myself, and started writing a few hours a week."
And as she wrote, Maher found she liked writing about sex. "I write about sex because I always want to see sex scenes, in every movie or book. It's an important part of character development." Maher's books focus on working class women. The protagonist in "Snowbound with a Stranger" is a nurse; the main character in her first book, "I'll Become the Sea" is a teacher. Her third book, "Fault Lines," about a rape survivor, will be published in September, also by Carina Press. In her blog, Maher calls these books her Recovery Trilogy.
"I am trying to write characters who have rich emotional lives but remain working-class," she says. Nurses, teachers, firefighters, social workers – they work hard, for little money or prestige, and when "they do the job well, they are invisible." Maher hopes that her books, light in genre and content, can spark a wider discussion. "I want to convey that there is no more value to a wealthy person than to a working class person, that both can have deep and rich emotional lives."
So where does sexuality come into it? "Women's sexuality in movies and fiction is problematic—there's no place for women to initiate sex, to want it, to have emotional reactions to it. But sexuality is an important part of character development. We need to follow characters into the bedroom. Cultural issues explode in the act: how we see our bodies, our relationships." Yes, her books can be raw—but the sex scenes in "Snowbound with a Stranger" are fresh and alive. You can read a preview of the book here.
The line between sex scenes and erotica can be a fine one, and Maher refuses to draw it, saying "I'm interested in erotica as it builds character, because I'm interested in what real people do in sexual situations." As for the people in her life, Maher has told certain family members that they may want to avoid her books. Her boys are too young to read the books now; Maher's best guess is that they will not want to read them when they are older.
Maher went to Vassar, where she majored in sociology, then worked as a political organizer. After a couple of years she joined the New York Teaching Fellows program, and taught for four years in a Crown Heights Elementary School. Perhaps it's not the background you'd expect for a writer of romance novels, but for Maher, it's working.
Have a book you want me to know about? Email me at asbowie@gmail.com. I blog about metrics for people who hate numbers here.