by Alexandra Bowie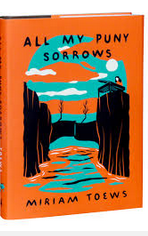 Can one ever escape the past? That's a question Miriam Toews raises in her sad, funny, and deeply engaging novel "All My Puny Sorrows." The novel is centered on the close relationship between two sisters, Elfrieda and Yolandi Von Riesen, the first a successful concert pianist and the other a writer. Elfrieda, called Elf, and Yolanda, or Yoli, spring from a Mennonite community in central Canada; they've left it behind, as has their mother and her own sister, Tina. The family is spread across Canada, but often fly between Winnipeg, where Elfrieda and their mother live, and Toronto, where Yoli lives with her younger child Nora, to see each other. Her older son, Will, is in college in New York. Yoli, the writer, makes just barely enough to support herself and her children; she is in the process of divorcing Nora's father. Elf is in the midst of her own attempt to escape, and much of the book takes place in and around the hospitals where her suicide attempts land her.
Sisters, of course, have a shared past, and the two pairs of sisters in this novel had to fight hard to leave their traditional community. In one early scene Yoli describes Elf's loud and their mother's quiet but equally effective resistance when the community's elders, all male, come to their house to tell their father that he must stop his daughter from playing the piano. The community itself has a history of suffering, and reminds its members, and its children, that their grandparents had escaped from discrimination and violence back in Russia. The family does as well: Yoli and Elf's father died alongside a Canadian railroad track, possibly a suicide, most of his 206 bones broken.
Despite the pain, these are lives lit with wit and humor, and a great deal of love. Yoli, the narrator, recounts incidents and conversations in a dry tone. After an exchange with Elf in which she rebuts Yoli's claim that apologies "are what keep us civilized" citing the Catholic confession that "allows for entire slates of indiscretion to be wiped clean" and after a few conversational footnotes, Elf says:
I'm just saying that apologies aren't the bedrock of civilized society. All right! I said. I agree. But what is the bedrock of civilized society? Libraries, said Elf.
There are many dyads here: Elf and Yoli, each daughter with their mother, their mother with her sister Tina, Yoli and Nora. They thrive, mostly, but are realistic. They need each other, as suffering is central to their lives. When Elfrieda attempts suicide Yoli and their mother are sad but not surprised, unhappy but empathetic. Elfrieda begs Yoli to take her to Switzerland, because she thinks its laws may allow Yoli to help Elf in her quest to end her life, and Yoli struggles to reconcile her conflicting impulses to help or hinder her sister.
The novel's ending is realistic, and many readers will be saddened, and some may be angered, by Toews' empathic and sympathetic resolution of the sisters' dilemma. It seems extraordinary that Toews has written a deeply engaging and sympathetic novel about suicide, but that's what she's done.