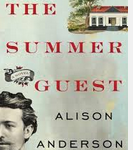 by Nidhi Pugalia
Does knowing that art is designed, not divined, make it any less authentic? Inspired by the writer Anton Chekhov's personal letters, Alison Anderson's sublime historical novel, The Summer Guest, poses this question as it explores the lives of three women separated by a century yet inextricably bound by their connection to Chekhov.
In the summer of 1888, young Ukranian Zina Lintvaryova, her promising medical career thwarted by an illness that has stolen her sight and spirit, has retired to her family home in rural Luka. When her family rents out a cottage, Zina forms a bond with the tenants' son: doctor and just-coming-to-fame writer Anton Chekhov. As her condition worsens, Zina chronicles their penetrating conversations in her diary – memorializing a relationship that brought "light and vision" back into her life.
Her words in turn revitalize the lives of two women more than a century later. In the winter of 2014, Zina's diary finds its way to translator Ana Harding with a request from Russian publisher Katya Kendal to translate it into English. To Ana, Zina's diary stands out for its earnest narrator and reveals unimaginable possibility: the opportunity to change literary history when she discovers that Chekhov, known for his short works, may have written a novel. Ana turns to Katya with numerous questions about the diary's discovery and the location of Chekhov's lost novel.
Katya, faced with the simultaneous collapse of her publishing company and personal life, knows Zina's diary is her last hope to save both. Yet she evades Ana's queries, prompting Ana to travel to Luka to find the answers she needs. The novel alternates seamlessly between past and present, uniting across time and place three women who seek meaning in lives fraught with loss. Zina's ruminations illuminate Ana and Katya's struggles for independence in a patriarchal world. Anderson creates a poignant feminist narrative peppered with insights that make us pause in thought, as when Zina reflects on Sofia Tolstoy's traditional role as housewife, offering an alternate perspective. She writes: "Perhaps she reckons his shadow is better than no shadow."
The Summer Guest reads at once as a mystery, a loving sketch of the relationship between artist and muse, a journey to find strength in lives made heavy by fate, and, most importantly, a meditation on the deceitful power of imagination. Saluting Chekhov's perceptive grasp of human nature, Anderson creates complex female protagonists to take on, as Chekhov states, the true role of artist: to pose questions, not provide their answers. As Katya's silence drives Ana to unravel the truth behind Luka, Zina, and Chekhov, readers come to understand how cunningly crafted art can be and are asked to ponder whether a story must be true for it to have meaning – or if "the beauty of fiction," as Ana proffers, is "that it [aims] closer at the bitter heart of truth than a story [told] as it…unfolded" could. For this firm hold on the "heart of truth," readers must pick up Alison Anderson's The Summer Guest.
UPDATE: This post has been updated once to remove a repeated sentence.
Nidhi Pugalia is an MFA candidate writing fiction and living in Manhattan. Read her blog, or email her at pugalia.nidhi@gmail.com.