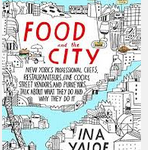 by Alexandra Bowie
Food. We've got to have it, and in New York City the food we have almost always comes from somewhere else, and frequently someone else prepares it. Who are the people who bring it to us or prepare and serve it? Why do they do what they do? These are some of the questions Ina Yalof sets out to understand in her compelling oral history "Food and the City." Yalof identifies at least one common trait among the diverse men and women whose stories she relates: they love food and eating.
Yalof's book maps New York City, from the Fulton Fish Market (now in the Bronx) to Denino's, a family-owned pizzeria in Staten Island. The food business isn't all high-end restaurants, though Yalof stops in at some of those. Food trucks and caterers play a role too, and one of Yalof's most interesting interviews is with five-foot-tall Paulette Johnson, who oversees food service operations for the New York City Department of Correction. (In addition to Rikers Island, she feeds inmates at three borough Houses of Detention and for the DOC staff of 8000.) Delving into some of the byways, Yalof finds people who do jobs we don't see and perhaps haven't imagined. Along the way she digresses into some fascinating and frequently moving personal stories.
Yalof begins with a section she calls "Starting from Scratch," in which she describes entrepreneurs who built a food business from nothing – most are immigrants and none, she says, are business school graduates, or trust fund babies, or had friends in high places. There's a maker of tortillas, a couple of bakers (including Dominique Anselm, inventor of the cronut) and the Halal Guys, whose popular truck generates block-long lines on 6th Avenue. (They say the longest you'll wait for your food is 20-30 minutes.) It's run by a guy with a doctorate in veterinary medicine and an engineer – they have a great story. And so does Sam Solasz, who runs Master Purveyors, a wholesale shop in the Hunts Point Meat Market. He's a Jew whose family was sent first to a ghetto, where he butchered meat for the Germans, and then to Treblinka. He survived by jumping off the train and running into the woods where he found a partisan group and stayed with them until the Russians came. He stayed with them for a few weeks, then went to a Displaced Persons camp and thence to the US. He was sixteen years old.
Other neighborhoods and cuisines follow – Duck and Other Dynasties (family-owned businesses, from fish companies to Peter Luger's to Papaya King); Taking the Heat (line cooks); along with sections about chefs, managers and wait staff, members of successful partnerships, and party planners, including a lovely interview with Sylvia Weinstock, of Sylvia Weinstock Cakes. Ms. Weinstock contributes one of the best lines in the book:
[Well-known people] inquire[d] if I would do it for free for the 'publicity,' or just for the 'honor' (their word, not mine) of making their wedding cake. I always say, 'Sure, I'll do it for free. But only if you come down and talk to my seventeen employees and ask them to give up a week's salary to create your cake. If they agree, you've got it for free.' Nobody ever took me up on it.
Yalof ends her book with a discussion she calls Counter Culture, which includes interviews with a Zabar's lox slicer, the owner of Murray's Cheese and Brooklyn Heights' own Charlie Sahadi. Turns out he doesn't drink coffee, and likes chocolate and ice cream. We hope your retirement is full of good things, Charlie.
Have a book you want me to know about? Email me at asbowie@gmail.com. Follow me on Twitter @abowie917.