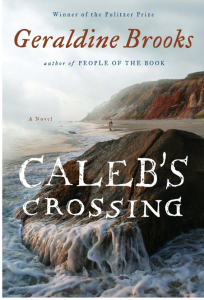 In about 1641 the Mayfields and a few other families left the proscriptive Massachusetts Bay Colony near Boston and, seeking slightly more freedom, settled on the island of Martha's Vineyard, where they lived near but not really among the Native American residents. In 1665 Caleb Cheeshahteaumuck, a Native American from Martha's Vineyard, became the first Native American to graduate from Harvard College. Shortly after completing his studies, he died. Geraldine Brooks has hung her lovely and elegiac novel "Caleb's Crossing" from this very simple skeleton.
Bethia Mayfield, the (imaginary) daughter of the founding family, tells the story. In addition to Caleb, other characters include the Mayfield parents, Bethia's siblings, and their English neighbors. There are Native Americans who have become Christian converts, and there are other natives who want nothing to do with the settlers – and who treat those who have converted as outcasts.
As is always true of Geraldine Brooks, the book is beautifully written, consistently evoking that small island. But the language is carefully chosen to place the reader in the 17th century, while refraining from dialect or becoming too unfamiliar to the modern reader. Here's Bethia, explaining how she learns her which herbs and mosses can cure:
I do not mean to say that all my stolen hours were spent at book. I learned in other ways, also. I . . . began to ask Goody Branch and others who were wise in such things. There was a prodigious amount to know, not just the centuries-old lore of familiar English herbs, but the uses just now being found out for the new country's unfamiliar roots and leaves.
As she explores the island, going farther than perhaps her parents expect or would allow, Bethia meets and befriends Caleb (who of course is not yet called Caleb). She learns Native lore from him, as well as good fishing spots; he learns English from her. They communicate, despite the differences. One thing stymies Bethia – the names the Native Americans use for each other. They are changeable. Caleb explains:
Names, he said, flow into one like a drink of cool water, remain for a year or a season, and then, maybe, give way to another, more apt one.
Telling the story from the point of view of a woman, and a young one, the sensitivity to the Native American lore and culture, and the general open-mindedness on display among many of the Martha's Vineyard settlers suggests that Brooks is telling a 21st century story cloaked in historical language. The relationships that develop between settler and Native Americans, and the events that unfold generally pulled this reader deep into the 17th century.
Caleb, of course, isn't the only person to have made the crossing: from Martha's Vineyard to the mainland, from English to Native culture. You know what happened to the Native Americans. This book is a good reminder of how enriched we can be by what came before. Do you agree? Let us know in the comments.
I also blog about metrics here. Have a book you want me to know about? Email me at asbowie@gmail.com.
I'll see you in the new year – Happy Holidays!