Walking down Third Avenue in Gowanus to The Pines restaurant is not what you'd call taking the scenic route. Head south from Atlantic Avenue, and the landscape quickly changes from upscale boutiques and gift shops to gas stations and car repair shops. But keep walking, down to President Street, and then go just a few steps further, and you might start thinking that Third Avenue is the new Smith Street.
Earlier this fall, Alan Harding, the man who brought Patois to Smith Street in 1997, opened The Pines,  moving in as Littleneck's next door neighbor. He served briefly as Littleneck's chef before joining Littleneck's owners Andy Curtin and Aaron Lefkove, along with Carver and Sonya Farell in The Pines, hiring chef Angelo Romano to oversee the kitchen. Romano previously worked at Roberta's, Lupo, and Masten Lake.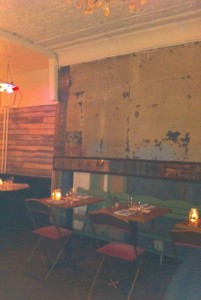 A former bagel shop, the restaurant at 284 Third Avenue required little renovation, according to Romano, and the décor is almost quaintly minimalist: wooden tables and folding chairs, unfinished tin walls and ceiling, the occasional picnic bench. Soft lighting offers a glowing, almost dreamy ambiance.
The menu is limited but inventive, aspiring to what Romano calls an "interesting level of comfort food."
"We might use products our customers haven't seen before, but we use them in a flavor profile they can relate to," he said. "The flavors will bring back their childhood, or take them back to their college days."
On an early December Monday evening, the less-than-straightforward bill of fare was presented simultaneously with a query from the bartender: "Would you like me to explain the menu to you?"
Though at first resistant, my friends and I eventually, and reluctantly, succumbed, seeking guidance on the menu's organization, each of item of which is structured around a key ingredient whose preparation or accompaniments vary. It seemed, perhaps, a little more precious and inaccessible than necessary.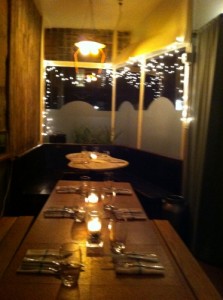 Skepticism from the brain gave way quickly, though, to approval from the taste buds: every single thing we ate, from the chick-pea amuse-bouche, to the jicama salad with yogurt, to the greens with guanciale and egg yolk, to the pork shoulder with rye berries, sparkled with flavor and texture, vividly, extraordinarily so.
Ours were not, apparently, the only such reactions to the food. According to Romano, the wait for a table can run to two hours at peak times, and The Pines doesn't take reservations (or credit cards), at least for prime dining hours.
"I'll take reservations subjectively," he said. "If someone calls and is really passionate about coming and wants a reservation for two at 8:30 on a Monday, we'll accommodate that, and we'll always take reservations for parties of six or more."
"The restaurant is really small," he explained, "and we can't risk people coming in late or not showing up."
Romano doesn't want to be seen as a draconian gatekeeper, though. "The obvious nature of the business is hospitality," he said. "Our guests leaving happy is much more important than anything else."
He pointed to a recent example of a woman who called to make a reservation for a Friday night. Her parents had lost their home in Superstorm Sandy, and he suggested that they arrive right at 6:00, when the restaurant opens.
"I wanted to make sure that her parents had the best time of their lives," he said. "This was about give and take, and we went out of our way to make sure it was a special night."
Come spring time, The Pines' backyard, which Romano calls "the big upsell of the restaurant," will re-open. Until then, diners will need to make do with the restaurant's 42 seats and the bar, taking advantage of an atmosphere that Romano hopes beckons to a variety of diners.
"We designed the place," he said, "so that you can come by yourself or you can come in a group."
Given the number of diners finding their way to this less-than-hospitable stretch of Third Avenue, the approach seems to be working.  "The neighborhood is giving us a shot," Romano said appreciatively, "and they've embraced the food that we're doing."
More photos of The Pines here.
The Pines is located at 284 Third Avenue. It's open every day for dinner from 6 – 11 pm, and for weekend brunch from 11-3.