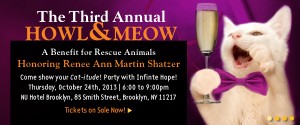 Join Infinite Hope Animal Rescue this Thursday night at the Nu Hotel on Smith Street (at Atlantic Avenue) to celebrate a year of helping animals and to help fund the organization's rescue efforts.
Infinite Hope is an all-volunteer animal rescue based in Boerum Hill that houses, cares for, and places abandoned animals. The organization has a small adoption center at Hope Veterinary Clinic on Atlantic Avenue and relies on a network of foster home; it has helped find permanent homes for more than 1,000 animals.
The third "Howl and Meow" Hallowe'en party benefits Infinite Hope's efforts and will take place from 6 – 9 pm on Thursday, October 24.  While costumes are optional, body-painter Derrick Smith (profiled last year in the Times) will be on hand for face-painting; the evening will also feature a silent auction with spa packages, trips, and art.
"We're 100% volunteer," explained Infinite Hope board member Angelica Hamann, "so this event is to raise money to continue the work that we do."
Suspicious Handbag will be on hand to provide background music for the evening, and children are welcome, as are, said Hamann, "well-behaved dogs."  Cats, she said, would be better off left at home.
The evening will also honor former Infinite Hope board member Renee Ann Martin Shatzer, who passed away earlier this year.
The $50 general admission tickets are 50% tax deductible; pet sponsorships are also available to help pay for the food and medical costs of the animals that Infinite Hope rescues. Higher-priced packages that include free tickets and drinks are also available.
Click here to buy tickets and for more information. You can also check out the organization's Facebook page to learn more about cats like Tomosol, one of the many that Infinite Hope cares until they can find their forever home.