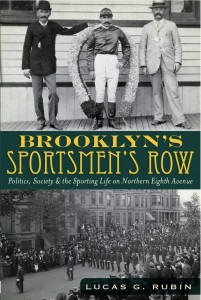 An archaeologist by training, Lucas Rubin has spent a good deal of his life immersed in the past. He also loves cities, and he loves sports. In his book, Brooklyn's Sportsmen's Row: Politics, Society & the Sporting Life on Northern Eighth Avenue, he indulges his passion for all three.
Rubin earned an M.A. and a Ph.D. in classic archaeology with a concentration in urban topography from the University of Buffalo, going on to work at the Brooklyn Museum as an assistant to the director, and he's held a variety of positions at Columbia University, currently directing the Master of Science Program in Sports Management at Columbia University.
A Brooklyn native, he's lived for much of his life in Park Slope, most recently on Eighth Avenue, in the home he and his parents purchased in the late 90's, a vintage Brooklyn brownstone at the northern end of the avenue.
"One day," Rubin said, "my father made a passing, cryptic comment to me – 'We finally made it to Sportsmen's Row.'  I thought to myself, 'Maybe one day I'll look into that.'"
It was no idle thought, and last year, the History Press published Rubin's book, the history of the block that in the 1890's was home to some of Brooklyn's brightest sporting luminaries, at a time when the city of Brooklyn, then the borough, was home to three race tracks, at Brighton Beach, Gravesend, and Sheepshead Bay.
The first owner of Rubin's house was James G. Rowe, Sr., a famous jockey and Thoroughbred horse trainer who was elected to Thoroughbred racing's Hall of Fame in its inaugural 1955 class; the block also attracted other trainers, jockeys, and horse owners.  Some of its more celebrated residents were the Dwyer brothers, butchers who had a shop at the corner of Court St. and Atlantic Avenue before dominating the racing world as owners.
Other residents of Sportsmen's Row included men well-known in politics, the arts, business, and law, among them William James Gaynor, mayor of New York City from 1910 to 1913.
Rubin made extensive use of Brooklyn resources in researching his book, finding particularly valuable the collection and librarians at the Brooklyn Historical Society.
"I love what I do, but I love the BHS," he said. "Working for them would probably be the only other job I'd consider."
He also used the resources of Green-Wood Cemetery, itself a National Historic Landmark and the location of the burial sites of several of the sportsmen about whom he writes in the book.
This Sunday, Rubin will speak at Green-Wood on "Life and Death Along Sportsmen's Row: Brooklyn's Eighth Avenue and Green-Wood," looking at both the famous and the not-so-famous people he writes about, followed by a trolley tour of some of the cemetery's sites.
Among those whom Rubin is certain to mention is Edward "Snapper" Garrison, a Hall of Fame jockey who rode from 1882 to 1897 and who lived at 30 Eighth Avenue until about 1897.  In addition to their geographical kinship, Rubin discovered something else he and Garrison have in common: their birthdays. Both were born on February 9.
Rubin's book is available at The Community Bookstore in Park Slope and from Amazon.  The Green-Wood talk starts at 1:00 and is free; the accompanying trolley tour costs $10 for members of the Green-Wood Historic Fund and $15 for non-members. Space is limited and reservations are recommended.