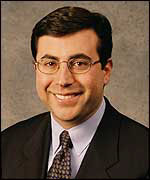 Last Saturday night, the Nets finally got to call Brooklyn their own when they played the Sandy-delayed opener in their new Barclays Center home, beating the Toronto Raptors 107-100.
Their announcer of 18 years, Ian Eagle, had to wait a little longer to make his Brooklyn debut, calling his first game on Monday when the Nets lost to the Minnesota Timberwolves.
Eagle became part of the Nets broadcast team in 1994 and joined the YES network, the Nets' television home, 10 years ago. And though he grew up in Queens, coming to the Barclays Center is a sort of homecoming.
"My dad was from Brooklyn," Eagle said last week, preparing to head out of town to cover the NFL.  "He went to Erasmus Hall for high school, and that was his life, growing up in Brooklyn."
"After my father got divorced, his first wife lived in Brooklyn, and I spent weekends in Brooklyn with her for the first five years of my life. I remember going to Prospect Park, getting off at the Church Avenue station; she had an apartment on Caton Avenue, and Brooklyn made up a lot of my childhood memories. It definitely made an impression on me."
Eagle also spent time in Mill Basin, as a teenager frequently visiting a sister who lived there. "I used to go out there about a once a month," he said. "Growing up in Queens, the only frame of reference I had for an indoor mall was Kings Plaza."
Eagle's first impressions of his return to Brooklyn are equally favorable.
"I'm really impressed," he said. "It's very tastefully done, not over the top like a lot of the newer buildings. It feels intimate, and the lower bowl feels very close to the action. I went upstairs, too, and for a basketball game, I don't think there's a bad seat in the house."
Of the move across two rivers, from New Jersey to Brooklyn, Eagle said that the first task was persuading the players that it was a good idea. "The biggest challenge initially was convincing players that Brooklyn is a legitimate destination," he said. "That happened pretty quickly."
"There's automatically a fan base in Brooklyn," he went on. "Knicks' ans aren't going to give up their allegiance, but Brooklyn is a proud area, and a number of fans have already accepted this team.
"That's a byproduct of the pride within the borough. There's a different vibe with this team."
While Eagle is enthusiastic about the move, he has no plans to move from his New Jersey home to the Brooklyn.
"I have a 15-year-old and a 13-year-old, and the timing just doesn't work. But I've already done the drive a couple of times and it really hasn't been that bad at all," he said.
"I'm Mr. Traffic," he continued. "I listen to all the traffic reports."
The Nets' next home game is Sunday at 3 pm against the Orlando Magic.