If Andrew Dice Clay wears his heart on his sleeve, then his love for Brooklyn is the aorta pumping blood through that heart. And on Saturday, October 1, for the first time in his decades long career, the famously lewd, famously New York comedian will finally come back home.
"I played every arena there was," Dice said during a recent phone conversation. "From Nassau Coliseum, to the Philly Spectrum, to the Garden. I did every arena in the country, like 300 arena shows."
But in the 1980s, when Dice, now 53, was making the rounds, Brooklyn "didn't have a big place for me," he said. While plotting his comedy comeback recently with his agent, he suggested kicking things off –where else?—in Brooklyn.
"I'm from there," said the Sheepshead Bay native. "I was born there. My people are there, my friends, my family."
And so, next weekend, Dice, who is still the only comedian to sell out Madison Square Garden two nights in a row, will take the stage at Coney Island's MCU Park, home of the Brooklyn Cyclones, a stone's throw from the streets and pizza joints of his youth. "To come back after all this time is a great feeling," he said. "It's coming home."
En route back to his roots, Dice made some detours, and some deliberate decisions. "I went through a bad divorce, and I was like, fuck the career," he said. Instead, he devoted his energy to raising his sons Max, 20, and Dillon, 17, who he said grew up "emotionally strong and physically safe."  Though he's faced some challenges, like being banned from MTV for being too inappropriate, Dice believes an unbreakable will and a certain borough's "attitude" helped him survive.
"It's not about fighting," he explained. "It's just about standing up for yourself, and having a lot of heart, and that's what I'm made out of."
Maybe he's on to something: in the last year, Dice married his third wife, Valerie; landed a prominent guest spot as a heightened version of himself on the final season of HBO's Entourage; and rejuvenated his stand-up act with a bunch of dates around the country. Though it's been a while, Dice promised his new act is simultaneously fresh and nostalgic.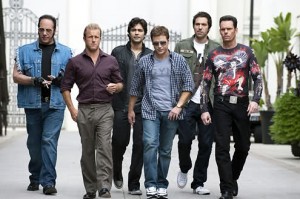 "Some performers get bitter towards what made them a star—I'm not that kind of guy," he said. "At the end, when I do those Mother Goose poems, the crowd goes crazy because that's the signature piece they always remember."
He keeps his material current by staying accessible, something Max pointed out the other day. Case in point: on a recent trip home, Dice took Valerie to Lenny and John's Pizza in Flatlands ("the greatest pizza in Brooklyn"); and to Kings Plaza; and to Nathan's Famous in Coney Island. Also a perennial Dice standby: L&B Spumoni Gardens in Gravesend.
Though he is thrilled about the show at MCU Park, Dice continues to look ahead, specifically toward Hollywood. "I like performing live," he said. "But would I like to do some great movies? Yes."
He's already in touch with Barry Levinson about the forthcoming Gotti family film, along with some other opportunities. His heart, though, remains with comedy, a world he revolutionized in the 1980s with his tough, New York style, and his unique ability to "work a stage," as he put it.
"When Chris Rock was getting ready 20 years ago, I would tell him to pace the stage, and not just stand there, and give people a show," Dice recalled. "Because no matter how good your material is, if you just stand in one spot and don't walk around, they get tired of watching."
If there's one thing Dice is banking on in the wake of his Entourage renaissance, it's that audiences won't get tired of watching—this time around. Armed with new material, he's eager to get back out on the road, and to delivering jokes in the way only a boy from Brooklyn can.
"I hate to use the word 'Google,'" he riffed. "If a guy from Brooklyn invented the internet, it wouldn't be 'Google.' It would be, 'Look it the fuck up.'"
As ever, the man's got a point.
For tickets to see Andrew Dice Clay at MCU Park on Saturday, October 1 click here