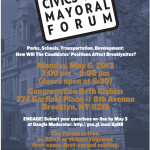 Learn more about the 2013 Mayoral candidates, and where they stand on issues of importance to Brooklynites: Parks, Schools, Transportation, Development. The organizers are encouraging votes to identify issues. Submit your questions online by May 3, 2013. You can also vote on the questions you think are most important.
The forum will be held Monday, May 6, 2013 from 7:00 – 9:00 pm at Congregation Beth Elohim in Park Slope, 274 Garfield Place at 8th Avenue, Brooklyn.
The forum is free, no tickets or RSVPs are necessary. More information is available here.