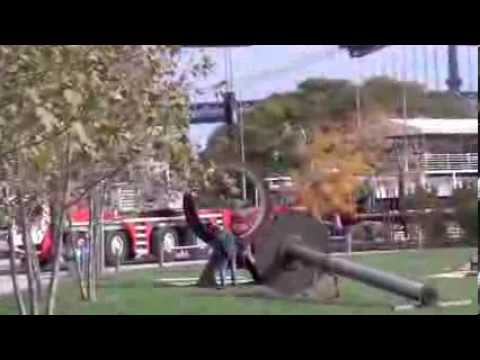 It seems like only yesterday that we welcomed Mark di Suvero's Sculpture "Yoga" sculpture to Brooklyn Bridge Park Pier 1 for a limited run of "about a year". Sure, for the first few weeks many of us thought the thing was totally WHACK (as we believe is the vernacular). But over time, we grew to love it. Kids loved it too.
And now… it's gone. What a bummer.
Karl Junkersfeld reports:
While taking my daily walk through beautiful Brooklyn Bridge Park, to my dismay, Mark di Suvero's innovative sculpture called "Yoga" was being disassembled and placed on a flatbed truck to be transported to destination unknown. After repeated observations, I am going to miss this wonderful piece of art. Thank you both Mr. di Suvero and Brooklyn Bridge Park for what little time Yoga and I had together. The pleasure was all mine.

Source: Brooklyn Heights Blog
http://brooklynheightsblog.com/archives/63347