Brooklynites love their bodegas. In fact, you've most likely developed a serious relationship with your favorite one, and the owner right along with it. It's your savior on those rainy afternoons when you're just too lazy to walk to the grocery store, your one stop shop for guilty pleasure hangover indulgences, and of course, it's always open.
Its also got some great options for those nights when it's 9pm and you're eyeing that bottle of wine you've been dying to drink, but you have nothing "gourmet" to pair with it. That's right winos, there are flavor combinations abound in those snack-filled aisles and we won't pass judgment when you reach for that bag of pork rinds too (plus they go great with a finger or two of bourbon, but that's another article altogether.).
If it's a chilly night and you've got a big, hearty bottle of red, an easy place to start is with beef jerky. It's the charcuterie of the bodega, loaded with salty umami flavors and tones of beefy goodness. Almost any deep fruit-forward red with some tannins, whether it's a blend or not, will be a delicious accompaniment to a bag of jerky. Zinfandel, Barbera, Nebbiolo and Sangiovese are great starting points for this pairing, but you'll find that almost any jammier red will do nicely.
Warmer weather means easy-drinking whites that are best enjoyed on your fire escape. And yes, we promise, your bodega will come through here too! If you've got a crisp white wine with strong acidity or minerality, look no further than your bodega's refrigerator. Chances are they'll have some cheese rounds and a back aisle might even lead to a hidden jar of preserves. Any fruity preserve, like apricot, raspberry or strawberry, atop a slice of cheese is so tasty with a bottle of Pinot Grigio, Chenin Blanc or Albariño, just to name a few.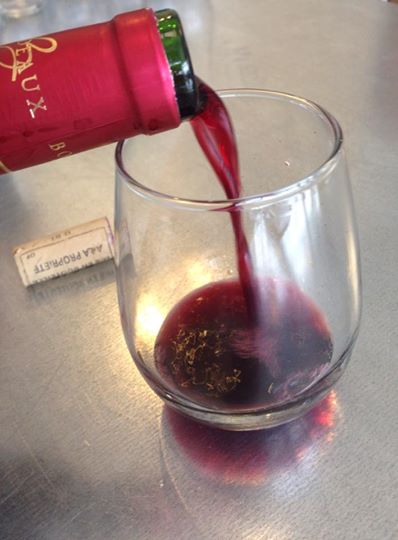 Does your white have some buttery notes, like a Chardonnay, or is it a bit heavier without the aforementioned racing acidity? Find your bodega's trail mix section and look for some dried fruit. Apricots, dates and figs will match your bottle's bigger body and add a perfect touch of sweetness to cut the lingering qualities.
If you've picked up one of the luscious North Western Pinot Noirs, you're in for a real treat. These Pinots, especially those from Oregon, tend to have lovely smoky notes, just under a subtle fruity layer so they lend themselves so well to smoked nuts. My pick is a bag of smoked almonds which have a host of complex flavors; they're nutty, slightly creamy, salty and deliciously smoky. I love to snack on these bad boys with an earthy Pinot Noir that has silky tannins and cedar undertones.
Of course, we can't forget about those with a sweet tooth. If you've got a full-bodied Malbec, chocolate is your best friend. These Malbecs, especially those from Mendoza, Argentina are big and bold, but many times also have undertones of vanilla or spice. Grab a pint of your bodega's deepest, darkest chocolate ice cream or chocolate bar and indulge.
Nicole works with Tipsy, a wine and spirits shop in Brooklyn. Tipsy hosts 3 or more free tasting events every week. Visit us at the corner of Myrtle and Classon or online at www.shoptipsy.com.