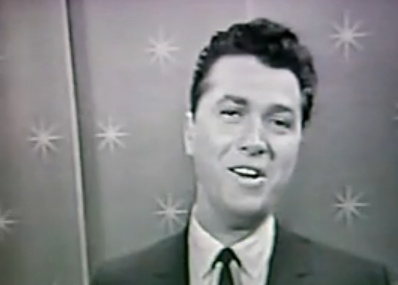 The incredible Josh Alan Friedman, one of the greatest annotators of the spirit of New York City, once wrote that yesterday's cheers have a very short ccho. But the length of an echo does not necessarily explain the power and cultural resonance of a voice.
In this spirit, I want to mark the passing of a star of the last century, Mr. Steve Rossi. Steve Rossi was probably best known as the smooth crooner who teamed up with light-socket-haired funnyman Marty Allen. Allen & Rossi were one of the last of the great handsome man-and-a-monkey/shyster-and-the-shyster'd couplings that defined comedy for nearly a century (and descended in a straight line from the "Dutch" comics of Bowery Dime Museums of the late 19th Century and Vaudeville, reminding us that much American comedy is based on the immigrant's experience of confusion and assimilation). Allen & Rossi were so loved that they appeared on the Ed Sullivan Show 44 times (imagine being big enough to host SNL 44 times!), and were so well respected that they were personally chosen by Sullivan to appear on the same shows that the Beatles appeared on (in fact, Allen & Rossi appeared on three of the four Beatles/Sullivan shows). Steve Rossi was a much-loved figure amongst classic Vegas entertainers, and he worked regularly until the end of his life.
There was a time when fame was less a construct of social media and bad behavior, and more the result of artists who worked their asses off, made people laugh and cry, and left them wanting more of both; in many ways, that time is lost forever (though, of course, many artists still work hard for their success, and achieve fame via creating distinct, original, and creative work). We should always honor those men, like Steve Rossi, who stepped into the spotlight night after night after night in nightclubs glamorous and grim, and knew that their survival depended on treating every audience like a fresh ingénue to be wooed, seduced, and conquered. These entertainers, these people like Steve Rossi, are one of the treasured legacies of our culture, and I hope that there will be many, many beautiful journeys ahead for Mr. Rossi, who passed this weekend at age 82.
Today we also remember another star, one who did not live past 21.
Despite the fact that Stuart Sutcliffe achieved virtually no fame during his too-brief life, he is known throughout the world today, and his spirit and style helped shape one of the most ubiquitous creative forces of the last one hundred years.
Stuart Sutcliffe, who would have been 74 on Monday, June 23, was the original bassist for the Beatles; far more significantly, his deep artistic heart and his extraordinary sense of style (specifically his James Dean-meets-Dean Moriarty-meets-Left Bank cool) profoundly defined who the Beatles were and what they were to become; in fact, I don't think it's going too far to say that Sutcliffe's powerful desire to inject the Beatles' relatively pedestrian (circa 1960) music with the artistic heart of the American beats and abstract impressionists is what created what we came to know as "the Beatles," and caused them to achieve a creative style and a cultural ambition that set them far, far apart from their Mersey and Hamburg contemporaries who played very similar American-based rock and pop. Sutcliffe, who was John Lennon's best friend, was also essential in inspiring Lennon to bring a healthy dose of artistry and lunacy into the nascent rock band, and I personally believe Sutcliffe's spirit was a formative part of Lennon's personality until the day Lennon died.
In 1960 on the Beatles first trip to Hamburg, Sutcliffe met Astrid Kirchherr, and the two fell in love; Kirchherr (and her ex-boyfriend, Klaus Voormann) set about re-making the Beatles in their own image, turning them into remarkable existentialist hipsters, and most notably (in terms of the band's long-term imaging) intimidating John, Paul, George, and Stuart into giving up their greaser-style DA's and replacing them with fashionably sloppy French bowl cuts. Sutcliffe ended up leaving the Beatles to stay in Hamburg with Kirchherr – where he died of a stroke, violently young, in 1962 — but the effect that Sutcliffe, Kirchherr, and Voormann had on the Beatles is literally incalculable; they are minor players in very, very key roles on one of the great stages of history.
The Buddha said that all phenomenon is the result of causes and conditions; which is to say that in the great and massively diverse planetarium we call Entertainment, or Amusement, or the Silly, Serious, Tragic, and Trivial things that Distract us, nothing arises out of the blue. Nothing. A fundamental element of the Beatles' character lies in the outsider interests of Stuart Sutcliffe, who we honor in this column; and the beautiful, twisting, corny, ever-shifting beast that is American comedy, descended from the trials and errors of the immigrant experience as interpreted by Weber & Fields, Abbott and Costello, the Marx Brothers, Olsen & Johnson, Martin & Lewis, and Allen & Rossi, also lay deep in the heart of Steve Rossi, who we also honor today, and bid farewell to. Your cheers echo loudly in my heart, Mr. Rossi.