The latest "record breaking" home in Brooklyn hit this market this week – the penthouse at One Brooklyn Bridge Park with an asking price of $32 million.
The city's real estate press, as usual, went wild over the announcement.
The Brooklyn Eagle did a little stalking of the home's owners, Claire Silberman Leaf and her husband Stuart Leaf:
A phone call to the residence further confirmed that the apartment belongs to her and her husband. The couple has lived in Brooklyn Heights since the 1980s, online sources indicate. Neither Claire nor Stuart has called back, or responded to an email.

For a time, they rented 70 Willow St., a source said – the stunning 19th-century Brooklyn Heights house that's in tourist guidebooks because Truman Capote lived there while writing Breakfast at Tiffany's and In Cold Blood.
Brownstoner, as usual, stuck to the math of real estate observing:
The unit is 11,000 square feet and has been "totally reconfigured," according to the listing. There's a formal dining room, a landscaped terrace, wine storage for 3,500 bottles, a screening room, library, central air, and a private guest suite. There are also two deeded parking spaces.

To put that in perspective, a 4,700-square-foot penthouse in the same building recently sold for $9,825,000, MNS announced last week. The building, whose address is 360 Furman Street, has 14 stories and 438 units.
Curbed , who broke the story, put the whole thing in perspective:
If the place sells for anywhere close to the asking price, it would smash the record for the borough's most expensive home ever, currently held by 70 Willow Street, which sold for $12.5 million in 2012. This "Brooklyn is the new Manhattan" thing just reached a whole new level.
So what does $32 million bucks get you?
A nice terrace over looking Manhattan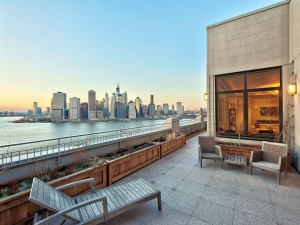 A room for all the wine you'll drink in this lifetime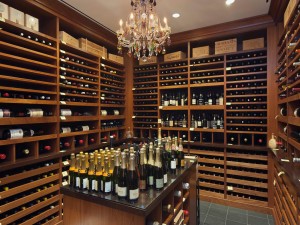 A home theater fit for any character in 'Game of Thrones'