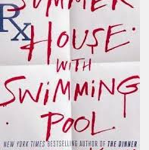 Marc Schlosser is a doctor, in general practice, with an office and a receptionist. He has a wife and two daughters, Lisa and Julia, aged 11 and 13 as the story opens. His wife, Caroline, is smart, earthy, and attractive with a good sense of humor. It should be a nice life, except that Marc is not entirely a devoted husband, or doctor. He has remained a general practitioner, rather than becoming a specialist. He prides himself on quick and infallible diagnoses from looking at his patients, and spends most of their 20 minute appointments thinking about other things. He has an eye for other women.
One of Marc's patients is Ralph Meier, an actor. Atypically, Marc and Caroline go to see him in a play and meet Ralph's wife, Judith. The couples and their children – the Meiers have two teenage sons – become friendly, though Marc is unhappy with the aggression with which Ralph stares at Caroline. After a party, the Meiers extend an invitation to visit them in the house they have rented for the summer vacation, in the south of France. Marc and Caroline agree not to go, but Marc ever so casually maneuvers his family to a campground nearby. Naturally, the families meet up, and the Schlossers end up camping in the Meiers' yard.
Things do not go smoothly. There are other guests, a filmmaker and his young – very young – girlfriend, Emmanuelle. Ralph is aggressive, Marc rather passive-aggressive, and all three men are childishly competitive. And there are four teenagers (or perhaps five – Emmanuelle is of age, but barely). One night after dinner everyone except Caroline and Emmanuelle head down to the beach to set off fireworks. Most of them have had too much to drink. Two of the teenagers wander off, and there are disastrous consequences to Julia, the thirteen-year-old.
Julia survives, but the friendship doesn't. In piecing together what happened Marc becomes more and more convinced he knows who is guilty. His general disdain for his patients, and for much of humanity, means it is easy for him to decide what to do. Much of the book, which Marc narrates in the first person, is his rationalization for doing so. Marc is, in his mind, not so much God as the instrument of someone's fate.
Koch creates a plausible if rather unpleasant main character, living in a fully-realized world, except for some time sequences that remain ambiguous. Koch frequently slows the action down so that tension, and the reader's blood pressure, rise as the story progresses. Surprisingly, Marc becomes a teeny bit sympathetic as he makes difficult decisions under unimaginable pressure. Watching a Nietszchean superhero play his beliefs out is not a pretty sight, and this book is a deeply disturbing one to read. It's worth it all the same. Do you agree? Let us know in the comments.
Have a book you want me to know about? Email me at asbowie@gmail.com. I also blog about metrics at asbowie.blogspot.com.