In the last few weeks, I have expressed some negative opinions about some very beloved institutions, like Sting, Jam Bands, and the New York Yankees.
Now, since today is the 1960th anniversary of the poisoning death of the Emperor Claudius, I find myself in a reflective mood, and I'd like to revisit these topics from a "sunnier" angle.  Also, today would have been the 88th Birthday of Ed Yost, who prowled the 3rd-base Coaching Box for the New York Mets with Claudius-like wisdom; my fond memories of this shrewd and astute fireplug of a man has further underlined my inclination to accentuate the positive!
First, a few nice words about the almost compulsively superior Sting, who as he ages resembles an unholy cross between Malcolm McDowell and the cartoon character Tin Tin:
* In the early 1990s, it looked like Sting might be trying to distract us from his hair loss in increasingly noxious ways.  Now, he appears to have embraced it.
* His real last name is a little bit like mine, and his real first name is the same as my best friend when I was a kid (Hi, Gordon Platt!).
* At the dawn of the Police, Sting (and drummer Stewart Copeland and then-Police guitarist Henry Padovani) backed pioneering transgender singer Wayne/Jayne County.  That's cool!
* Sting has not, in any organized way, condemned the Jews for killing Christ.
* Sting had no involvement whatsoever with Glitter, which is "The Capeman" of rock movie musicals.  
* He has a small part in Terry Gilliam's The Adventures of Baron Munchausen, and Terry Gilliam is basically freaking incredible and pretty much the most influential director alive.  Seriously, weren't all the Harry Potter films and all the Lord of the Rings movies just basically homages to the style created by Terry Gilliam?
* My friend Kevin Hogan has a theory, fairly convincing and supported by research, that he's related to Sting.  Like Sting, Kevin arches his eyebrows with an English accent.
* Police drummer Stewart Copeland played on the first solo single by Damned guitarist Brian James, an exceptionally fine recording called "Ain't That A Shame." Now, that's not actually something about Sting, but Sting probably could have put a stop to it if he wanted to, and he didn't.

Now, Jam Bands!  Let's say you once watched a documentary about the '60s while high, and you once watched a documentary about Be Bop while really high, and you once watched documentary about bluegrass while really, really, really high, and then you based a musical genre on profoundly misunderstanding all three things.  You're probably playing in a Jam Band!  Now, if you only watched half of the bluegrass documentary before falling asleep (because you were so high), you probably are just a fan of Jam Bands.  Still, I can say something really, really nice about Jam Bands!
* Jam bands have not, in any organized way, condemned the Jews for killing Christ. 
Now, how about those New York Yankees!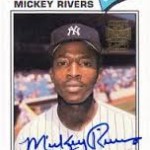 * Mickey Rivers was a New York Yankee.  After Oil Can Boyd, he may likely be the most entertaining baseball player of all time.
* Elston Howard was a New York Yankee.  If there was any justice in this freakishly grim Bardo stage between birth and death, EVERY TRIBUTE TO DEREK JETER IN ANY FORMAT SHOULD HAVE JETER'S NAME SCRATCHED OUT AND THE NAME "ELSTON FREAKING HOWARD' WRITTEN IN.
* Right now, somewhere in Hell, George Steinbrenner is shoveling feces into Mengele's mouth.