What a beautiful way to end a legendary lifespan.
These days, fewer and fewer bands – and virtually no legacy acts – are willing to say "This is where the story ends."   Even fewer can end their lifespan with a ringing valediction and validation, something that simultaneously underlines an act's most distinct gifts yet adds something of true and lasting value to the catalog. 
(I mean, did anyone even care that something calling itself The Who released a new song eight weeks ago?  Did Binky even care?!?)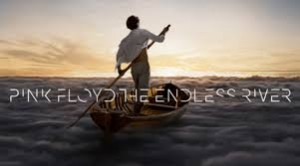 The Endless River, the fifteenth and final studio album from Pink Floyd, is a classic Pink Floyd album – especially if your idea of Pink Floyd is David Gilmour's Benadryl slides and cough-syrup glides, and the empty-museum instrumental explorations of Umma Gumma and Meddle – while adding something new and even challenging to the catalog.  The album also asks the question:  what if Floyd had gone straight from 1972 to 2014, quickly stopping in 1976 to pick up some of the hash-lump musical memes that made the post-Syd Floyd so, well, luscious?
The Endless River exists, quite positively, on a number of different levels:  it is, without a doubt, a beautiful monument to Floyd keyboardist Richard Wright, who died 6 years ago; most of the tracks on The Endless River are based around sketches and performances Wright recorded in the early/mid 1990s, around the time of the sessions for The Division Bell.  It is also an affirmation that the best-remembered Floyd – which is to say the shifting, sighing, sliding, soaring, shimmering, spacious sound of Dark Side of the Moon and Wish You Were Here — belonged to Gilmour and Wright, who effortlessly evoke that sound here.  Next, the new Floyd album firmly asserts that the wholly progressive and adamantly non-commercial head-band that Floyd became after Syd left but before the mega-sales of Dark Side — that is, the group that produced deeply personal and artful soundtracks for both the neurotic and peaceful mind — was still very much alive a generation later, and could be summoned at will.  Finally but perhaps most significantly, it is a graceful, elegiac monument to Pink Floyd, space rockers, head-rockers, and masters of plaintive and compelling shifting-sands-under-a-pale-moon rock.

With only one song featuring a complete and traditional vocal (that's the track immediately above, and you'll see/hear it's very goddamn good), The Endless River is loaded with canyon-deep/borealis-high instrumentals, flowing seamlessly and gorgeously in and out of each other.  Vibrating and sighing, trembling and lifting, the album occasionally slips into great pronouncements of almost Elgar-like melodicism and adamant late-night FM rhythms; but it mostly lives in the land of slow-shifting sands of mood, tone, and texture.  The Endless River is almost certainly the most FIRM and avid statement from the post-Waters Floyd that Gilmour/Wright/Mason had a RIGHT to have a Floyd without Waters.  This album is beautifully, adamantly, and firmly Pink Floyd.
Gilmour, Mason, and Wright (with help from producers Phil Manzanera and Youth) do this by sitting themselves firmly in the headspace Floyd created in the late 1960s and early 1970s. If you love the Floyd that made Meddle – an album that sounds brilliant shuffled with this one – Umma Gumma, and Atom Heart Mother, you will probably dig this very much.   It's the same band, clearly.  If you can imagine that band – the Floyd that existed, say, between '69's Umma Gumma and '72's Obscured By Clouds – re-emerging forty years later and applying some of wind-swept sonics and gentle slides from Floyd's later, more commercial work, The Endless River would be the result.
The very best thing Pink Floyd have had to offer in the 45 years since Syd left was the idea of texture. The elegiac, sighing, spacious, looping, and continuous landscape of The Endless River, full of nods to earth and science and even pop, is Pink Floyd, far more than the bitter, snapping polemics of Roger Waters was ever Pink Floyd.
(May I also add that when I used the word "polemics" in the last paragraph, it was just a Hail Mary?  I mean, it looked and sounded and felt like it would be the right word to use there, but to be frank, I wasn't entirely on solid ground in terms of the definition.  But then I looked it up, and BOOM goes the dynamite! Jon Matlack strikes out the side!  It was the perfect word. )
The Endless River
not only asserts the idea that this drive on the Lunar Coast Highway was
the
Floyd sound, but also that it
belonged
to Wright and Gilmour.
Ohhhh, the listener thinks, this is Pink Floyd…
Bells…chimes…12-string guitars crisp and heavenly…enough space in the landscape that you could drive a car through the mix, but a thousand and eight star-like elements shimmering below, around, and above, insuring that the compass still points to true north and no one is getting too lost in the desert… Stately, patient, at times adamant and processional, full of the peculiar texture of ebow'd acoustic guitar and the warm, familiar tones of church organs and rising and falling synth pads… radio noise and whirring, breathing choppers and harmonics (now is a good time to mention that fans of Porcupine Tree, Album Leaf, and Radio Massacre International, not to mention old beards who listen to Tangerine Dream or Vangelis, are going to
love love love
this album)…guitars sligh and slide and
almost
threaten to bite, but just hand you a shoulder pillow…. And it not
all
a trip to an acid-and-merlot laced day spa; the album contains at least one near-classic Floyd track – "Allons-y," which sounds like "Run Like Hell" played by a group of monks on opium while listening to Arcade Fire's
Neon Bible
, which is to say it sounds
a lot
like "Echoes" from Pink Floyd's 1971 album,
Meddle. 
The Endless River is a lovely, strong album, distinctive but as wonderfully familiar as a favorite old over-sized sweater found in the back of a drawer.
It reminds us that once upon a time, headphones were worn, and as the early evening of a late fall afternoon wrapped around our suburban bedrooms, we retreated into a land of rich strange highways; and a lifetime later, Pink Floyd are still reminding us that they were, are, and always will be the Kings of that road.