The fairly unspectacular memories that follow are dedicated to Alan Zweibel, who was inordinately kind to a 14-year old boy 38 years ago.
When I watched the occasionally thrilling circus of self-congratulation that was SNL 40, more than anything, I saw myself. I'm sure a lot of us did. When we revisit old episodes of Saturday Night Live, we flash back to where we were and who we were when we first saw these actors, these sketches. I found myself entirely conscious of how I reacted to the show when it was a bright, sassy miracle that suddenly appeared on my TV during the dreadful years when Junior High was preparing to end its' reign of humiliation and cruelty.
Historical Context: Circa 1975, there were essentially two models for non-sitcom television comedy: The American and the British. The American model involved light satire, broad sketches, musical burlesques, and guest stars, and was typified by (the wonderful) Carol Burnett, Sonny & Cher, Tony Orlando & Dawn, and a rather large stack of forgettable summer replacement shows. It had fairly direct roots in the Vaudeville format omnipresent in the earliest days of television variety.
The British model involved high-concept and frequently absurd sketch comedy, acute topical satire, an ensemble cast, and minimal guest stars; it was typified by Monty Python, The Frost Report, That Was The Week That Was, lesser lights like the Two Ronnies and the Goodies, and many brilliant (but unknown in America) shows like Not Only But Also, At Last the 1948 Show, Do Not Adjust Your Set, etcetera. It had direct roots in the cool, crisp satire of Beyond the Fringe and the Dada hysteria of The Goon Show.
These two branches did not meet, at least not in any real or lasting way,until NBC's Saturday Night came along. NBC's Saturday Night (I am deliberately using the show's original name, which was not altered until 1977) was the child of three very distinct but compatible bloodlines: The National Lampoon (from which it drew the heart of its' writing staff and its' acidic attitude – also, a chunk of SN's original cast came from the Lampoon stage shows), Toronto's Second City Troupe (which gave Saturday Night some cast members and, more importantly, the general skill-set and acting style of its' performers), and Monty Python (whose ensemble style, penchant for absurdity, and non-punchline based sketches was possibly the most visible influence on SN). Put the three together and throw in a soupcon of Don Kirshner's Rock Concert, and you had the DNA for NBC's Saturday Night.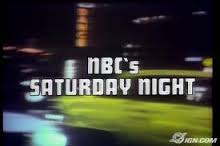 If you were sitting in front of a television in late 1975 and early 1976, this bizarre, beautiful, feisty, fluid object startled you. It was, quite literally, like nothing on American television; the unsubtle and unpredictable sketch format felt vaguely familiar to those of us who were already Pythonophiles, and the language and the attitude of the new show had a resonance if you were acquainted with the Lampoon; but aside from that, it was an Atom Bomb. If you watched a lot of television and listened to a lot of comedy albums (and being a lonely, trivia-obsessed and highly curious 13 year old, that would be me­), Saturday Night seemed to achieve the impossible: it was obnoxious, unpredictable, cocky British-format humor,Americanized.
I instantly became obsessed, and starting with the third episode, I found myself glued to the TV every Saturday at 11:30. I would even carefully balance my cassette recorder and tape every new episode, to aid the process of memorizing, analyzing, and understanding this exciting new object.
I turned 14 in March of 1976; I grew a few inches, lost the baby-fat bursting face and peanut-shaped body so permanently memorialized in my Bar Mitzvah photos, and I suddenly found myself somewhat confident in my abilities to actually achieve the goals that my obsessively nerdy mind had latched on to. In the long term, this set me on a course to insert myself into the world of British and American punk rock; but more pertinently, I recognized that Rockefeller Center was only a short ride away on the LIRR. By the autumn of 1976 and the onset of Saturday Night's second season, nothing was going to stop me from trying to investigate my obsession first hand.
So I did.
Now, this story isn't going to involve sex or drugs or even encounters that are particularly anecdotal or remarkable. This story just is, well, what it is.
Throughout the second and third season of Saturday Night, I began regularly going to 30 Rock on show days. Sometimes I waited on the stand-by line, a few times I actually had tickets, but the most interesting times were when I just snuck in. I found that if I put on my older brothers' tan corduroy jacket and wore his well-tempered Frye Boots (which supplied me with a somewhat jaunty, adult step), I could basically look like someone who might belong in Studio 8H. I can't recall the precise method I used to slip past security, but I remember that it wasn't too hard. I think the trick was to keep your head up (if you keep your head down, it's fairly obvious you're trying not to be noticed; keep your head up, and you look like someone who isn't trying not to be noticed, therefore you belong there); to move smoothly but not rapidly; and to have that slight angle to your shoulders that says "Hey, hold that elevator!" I am quite damn sure it wouldn't be that easy now (though I will note that I did do this trick again in 1996, when I was visiting a friend who was working on that week's show). When push comes to shove, I really think it was the corduroy jacket that made it so easy; the other fans hovering about wore down or denim, and it seemed like an inordinate amount of the staff wore corduroy.
When I would get up to 8H, I would find a spot in the hallway adjacent to the big studio and just lean against a wall and try to stay compatibly invisible. I wasn't pretending to be a writer or musician or whatnot; rather, I just wanted to pass for someone who had some small but not intrusive reason to be there (maybe people would think I was the younger brother of a cast member, or the guy who had just dropped off an important prop). Sometimes, if I felt exposed, I would look at my watch and glance around with a small frown on my face, as if I was waiting for someone to hand me something that hadn't come yet.
I didn't talk to anyone. I wasn't there to engage, I was there to observe. There was only one person I revealed myself to; that was one of the writers, Alan Zweibel. I was very curious about his craft, and for some reason he seemed approachable. He could not have been nicer. Seriously, I will always recall that this busy, brilliant man took the time, on a show night, no less, to be kind to a wide-eyed 14-year old passing as a devil-may-care 18-year old. I also talked a little bit (on different visits to 8H) with Dan Aykroyd and Laraine Newman, and they were both nice, especially Newman. Again, I am grateful for her unnecessary kindness.
Not very exciting, right?
But it was hugely exciting to be 14, to be captivated with the process of television, to be utterly obsessed with this exciting new show, and to just be able to lean against a wall and watch the incredible, beehive-like buzz of frantic activity and visible tension as the live show unfolded in the hours and minutes before it aired. Who needs anecdotes when you had a front seat?
Somewhere along the way, in the nearly 4/10ths of a century since then, I lost the Frye Boots, the corduroy Jacket, and the cockiness that would allow me to just stroll past security at a live network TV show. But I had it once; it served me well on those nights, and many other times, too. Nothing bad happened to me because I did such ridiculous things – some kind of inner compass of common sense counter-balanced my nerve — and I just followed my dreams onto a train from Great Neck to Penn Station.