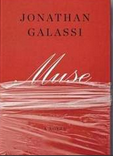 Jonathan Galassi's charming new novel "Muse" is a love story, Galassi tells us in its opening pages, and so it is, but it's a love story where the hero and heroine don't meet in person until late in the novel. The hero, Paul Dukach, is the second-in-command and hopeful heir apparent at a small literary publisher. Ida Perkins, a 20th century poet of great distinction, is the heroine. Ida, an "unimpeachably expert" poet, may be the Muse of the title and is certainly the poet that Paul's boss, Homer Stern, wants most to add to his list.
Unfortunately for Homer, Perkins is published by his main competitor; that firm is owned and run by a relative of Perkins's. Paul has made the study of Perkins's work, and to some extent her life, the main object of his avocation, and he knows, and so do we, and so does most of the interested public (thanks to Ida's unquenchable forthrightness"), that Perkins has had affairs with both publishers, and various others, among and between her four marriages.
The early chapters set the stage, describing the world of mid-twentieth century publishing before (and during) the arrival of the Internet and the rise of on-line retailers like the bookseller Galassi calls Medusa. It's a rather self-important world, and Galassi's description is reminiscent of the world of Beerbohm's "Zuleika Dobson" without, alas, the illustrations. The writing throughout is beautiful, as one would expect from a publisher and poet. Here's Galassi's description of Stern's editorial staff, " a raggle-taggle gatherum of talented misfits" (note the fun that Galassi has naming his characters):
portly Paddy Femor, an exceptionally gifted editor whose perfectionism made it nearly impossible for him to let go of the manuscripts he noodled over, sometimes for years; cadaverous Elsa Pogorsky, known around the office as Morticia, invariably dressed in black from head to toe and forever scowling through forbidding black glasses . . . ; crotchety, heart-of-gold copy chief Esperanza Esparza, renowned for her way with a red pencil, who seemed never to leave her desk surrounded by its array of scraggly avocado and spider plants that leached all the available light from her grimy office window.
Each chapter in the middle third of the book begins with a set piece – a farm in upstate NY, the Frankfurt book fair – they're too good to be described as filler, and are interesting as an insider's top-level description of the book business and the work of researching and, yes, writing a literary biography. Interested lawyers will note that Galassi does not include any depiction of publishers talking to each other or other merchants about a response to internet sales or publishing, though he does describe the general gnashing of teeth over mergers that sublimated most publishers into large conglomerates. The section also sets the reader, and Paul, up for the final third, a literary mystery. The heart of the story is here, told in many wonderful pages, not least of them Ida Perkins's final poems, collected in a book to be called Mnemosyne; in them the "goddess of memory, the mother of the Muses was speaking the poems, remembering." The mystery is easy to solve, for the reader who's paying attention, but Galassi leaves the reader with many questions to ponder.
It may be that physical books are an anachronism, and "Muse" has an elegiac air, but the transition will be a long one and there are still apartments and houses filled with books and Common Readers, as  Galassi calls us, who happily keep reading books. If you're one of them, you'll enjoy curling up with "Muse" for a happy afternoon. If you're not, read "Muse" anyway, because you'll get a telling and vivid description of a particular kind of life, and what more can we ask of fiction?
Have a book you want me to know about? Email me at asbowie@gmail.com. I also blog about metrics at asbowie.blogspot.com.