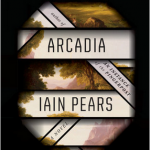 by Alexandra Bowie
Iain Pears' fascinating and compelling new novel "Arcadia" opens in a landscape, "bathed in sunshine, sweet-smelling from the gentle shower that fell overnight then stopped as dawn broke." It's a lovely picture of a classical pastoral setting with perfect weather. From here, Pears takes us into three different places. There's Anterwold, the idyl of the opening scene where farmers work in pleasant fields and the highest office one can hope for is Storyteller. Second is Oxford in 1960, and third is a sealed environment on the island of Mull, sometime in a distant dystopian future, where characters look out on pictures, fields with cows, which eventually changes to one of snow-topped mountains, "also imaginary as no snow had fallen anywhere in the world for at least a decade." Typical of Pears, he doesn't reveal the temporal relationship of these three worlds.
Oxford is home to Henry Lytten, an Oxford don who specializes in Sydney and Shakespeare, and wants to create as lively a fictional world as Tolkien or Lewis had done, only without dragons. But he hasn't written it yet, just set out ideas in notebooks, with character sketches, landscapes, and the society's precepts. Lytten meets with his friends in the pub in what is essentially a writing group, one of whose members, Persimmon, is writing a story about a dystopian future. Lytten may be a don but is not donnish, and his wartime work for a shadowy government intelligence agency has continued into the 1950s and requires some European travel. It's through his travels to France that he's met Angela Meerson.
As far as Lytten knows, his friend Angela is an eccentric artist who happens to speak a range of obscure and difficult languages. But Angela describes herself as a "psychomathematician whose speciality was time; events were mere epiphenomena which interested [her] not at all." Lytten's trips are also the reason he's befriended Rosie Wilson, a 15-year-old who loves the mysteries of Agatha Christie, whose lively, curious mind annoys her parents and endears her to Lytten. Rosie looks after Lytten's unpleasant cat while he's away, and that leads her to Angela and a machine that she's left in Lytten's basement.
The machine gives Rosie, Lytten, and Angela access to Anterwold. Does Anterwold exist? When and where is it? Is Anterwold a parallel universe or another world, and what can possibly link it to dystopian Mull? If, as one character argues, in some circumstances the past must rearrange itself, though "it appeared exceptionally difficult to alter the past except through massive intervention" how does that happen? These are some of the  central mysteries at the heart of this extraordinary novel. Like any good mystery, "Arcadia" also includes MacGuffins and red herrings. And Henry Lytten, Angela Meerson and Rosie Wilson aren't the only main characters in this complex novel: there's Henary, a Storyteller in Anterwold, and Jay, who goes on a quest, Hanslip, who runs the Mull institution, and Jack More, a policeman who goes in search of Angela when she disappears.
Three parallel worlds, mysteries, a quest and considerably more make up "Arcadia," whose complexities also include consideration of stories and origin myths, creation and destruction. There's some nice character doubling – the Henry/Henary pair is just one example – and it's a measure of Pears' success in this novel that it's quite easy to believe that Rosie can exist in two places at once. It's so intricately knitted together that Pears has developed an app to accompany the book. (Here's an article in which Pears explains his reasoning.) The app is well worth buying ($3.99 via Apple) as it includes a map (that's a screenshot)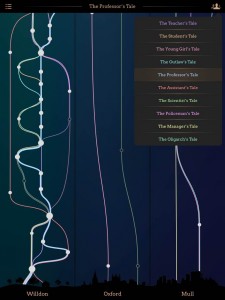 and skeins showing where each of the ten (!) main characters is. It's also an act of trust in the reader, as each node in the map takes the reader to the relevant text, and readers can read in the app in any order they choose. This is both distracting and enriching, as re-reading certain sections after learning what brought a second or third character to that particular point makes the resonances considerably deeper.
"Arcadia" is a substantial achievement by a novelist very much in control of his considerable powers. It's well thought-through, vivid, and one of the best novels to come this way in a very long time. Don't be put off by the complexity and do take advantage the app, because this engrossing and deeply satisfying novel will repay the reader many times over.
Have a book you want me to know about? Email me at asbowie@gmail.com. Follow me on Twitter @abowie917.