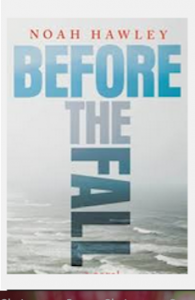 by Alexandra Bowie
A private plane en route from Martha's Vineyard to Teterboro falls into the ocean one calm but foggy summer evening. All but two of the eleven passengers and crew – they include the head of a news network, David Bateman, and a financial titan – are killed. The unlikely survivors are Scott Burroughs, a painter whom David's wife Maggie befriended, and JJ Bateman, aged four. Scott swims through the night, towing JJ, until they reach safety on a Montauk beach. (Hawley writes, "A walleyed fisherman drives them to the hospital.")
What happened to the plane, and how the various people trying to figure it out interact, occlude, and cooperate with each other, make up the rest of the novel. "Before the Fall" is a thriller, and Noah Hawley metes out details sparely, allowing the tension to build: if the novel weren't about a plane crash it would be the perfect book for a long flight. Maybe it is anyway, because in addition "Before the Fall" is a meditation on modern life, and our habit of interpreting our own and others' lives through various media.
TV is one, and Bateman's network's star anchor, Bill Cunningham, stays on the air for hours once the plane disappears, mining all the conceivable news in a toxic speculative brew flavored by the nuggets of information as they slowly become available: two bodies are recovered; the wreckage is found. Bill's interests aren't entirely benign; we know very early that he has a history of using all available means – legal, dodgy, and illegal – to obtain information.
Scott is one of those people who doesn't own a smartphone, has no online presence, and still uses a landline. He's a recovering alcoholic who hasn't had an exhibit in years, though he's on the plane because an art dealer, to whom he's mailed some slides, is interested in his work. He didn't intend to be a hero, but he did want to survive. Scott goes to ground after the crash to avoid interviews; what he views as a casual friendship with Maggie Bateman, David's wife and JJ's mother, is the subject of relentless comment and insinuation. Hawley's description of Scott as he comes to terms with the way Bill Cunningham, on TV, describes a life he barely recognizes, is among the most effective in the novel.
Another contrast, for Scott and for most readers, is the luxury in which the Batemans live – the townhouse on Manhattan's Upper East Side, the house on Martha's Vineyard. Cars. The luxury of the private plane. The large number of people whose jobs make the Batemans' lives easier. The private security staff who monitored the Bateman's movements. When Scott briefly experiences similar luxury – his hideout is the spare Greenwich Village apartment of a wealthy young woman – he's grateful but can't quite settle in comfortably.
Scott relives many of his actions as the novel unfolds, thinking about the choice he made at each point; this construct allows Scott to wish for alternative outcomes and gives Hawley scope to play with time. It's not called trauma, but Scott's memories are traumatic. "Life is a series of decisions and reactions," Hawley writes. "It is the things you do and the things that are done to you. And then it is over." With a meticulous, well-paced reveal that traces every person's path to that plane, Hawley's novel is a compelling and complex achievement.
Have a book you want me to know about? Email me at asbowie@gmail.com. Follow me on Twitter @abowie917