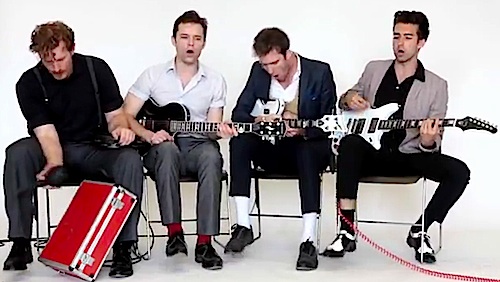 Even if you're not an avid follower of new music and bands, you've heard a Locksley song. "The Whip", performed in our Brooklyn Bugle Session, has been used on many TV shows, movie trailers and commercials thanks in part to a licensing deal with MTV.
As for the song, "It's about cool cars and Indiana Jones," vocalist/guitarist Jesse Laz tells us half-jokingly in our Brooklyn Bugle interview. But seriously folks he adds, "It's about a guy who's under his woman's thumb. 'Whipped' some might call it."
The band was formed in 2003 while most of its current members were attending high school in Madison, Wisconsin.
They went their separate ways for college but quickly realized that "college sucks" and moved to Brooklyn to pursue life as a band. Jesse's younger brother Jordan joined them three years later fresh out of high school.
Watch our full interview with Locksley here:
Bonus Track!
The band perform Bob Marley's "I Need You So" –
Connect with the band:
Website: http://www.locksley.com/
Facebook: http://www.facebook.com/locksleymusic
Twitter: http://twitter.com/locksleymusic