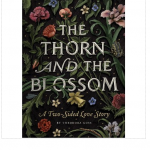 Brendan and Evelyn meet as young students. Evelyn, an American studying at Oxford, is taking a week's vacation in Cornwall before she heads home. Brendan is also at Oxford, but lets Evelyn think he is merely a local. The two, both misfits in their own families, start to fall in love after spending the better part of a week together. Their love of a Cornish myth (a local Gawain and the Green Knight predecessor) unites them, yet each keeps a secret, and soon they go their separate ways. They meet again many years later. Oh, and they might possibly be the reincarnated version of the lovers in the myth.
This romance is published as an accordion book, with Brendan's story told at one end, and, when you turn the book around, Evelyn's from the other. An accordion book telling a story from two characters' points of view poses a conundrum for the reader: whose side to read first? After reading the first side, the reader has to wonder: will reading the other side resolve the mysteries or even add anything to the story? This slight book by Theodora Goss succeeds in the first but I must admit I did not find the story so interesting that I was excited about reading it again. A gap of a few days made a difference.
Accordion books are more common in other cultures (here's a Burmese astrology handbook) and I was at first concerned that the binding was a gimmick intended to cover a weak structure. The story works, and there's a nice parallel to the Cornish myth, with a love triangle that reverberates down the centuries. This is a very short book, less than 100 pages for both characters, so don't plan for it to take you through an airplane trip. It is beautifully illustrated by Scott McKowen and comes in a beautiful, uncluttered box.
Have a book you want me to know about? Email me at asbowie@gmail.com. And check out my metrics blog.