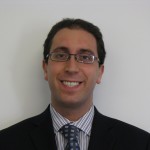 The New York Transit Museum has announced the start of an informal discussion series, Problem Solvers, hosted by Ben Kabak, founder of the blog Second Avenue Sagas. The free series begins on Wednesday, February 1 at 6:30 pm and will take an intimate look at the most interesting people working behind-the-scenes to operate the city's century-old transit system.
Mr. Kabak's first guest is Sarah Kaufman, who led the Metropolitan Transportation Authority's open data program. As an innovative and pragmatic leader within the MTA, Ms. Kaufman worked to put the agency on the fast track to the digital age, collaborating with third-party software developers to improve public access to transit data. Ms. Kaufman recently joined NYU Wagner's Rudin Center for Transportation Policy and Management. The hour-long program includes audience Q & A.
Problem Solvers continues on April 25th when Mr. Kabak, dubbed "The Transit Authority" by the Village Voice, will engage a second interviewee in informal conversation at the Transit Museum.
Doors open at 6 pm; program begins at 6:30. Guests are invited to explore the Museum prior to the start of the program. Light refreshments will be served.
What: Free! Problem Solvers discussion series debut
Who: Host Ben Kabak (Second Ave. Sagas) with guest Sarah Kaufman
When: Wednesday, February 1, 6:30 pm (doors open at 6 pm)
Where: New York Transit Museum, inside the subway station at the corner of Boerum Place and Schermerhorn Street, Brooklyn. General information (718) 694-1600 or click on this link.